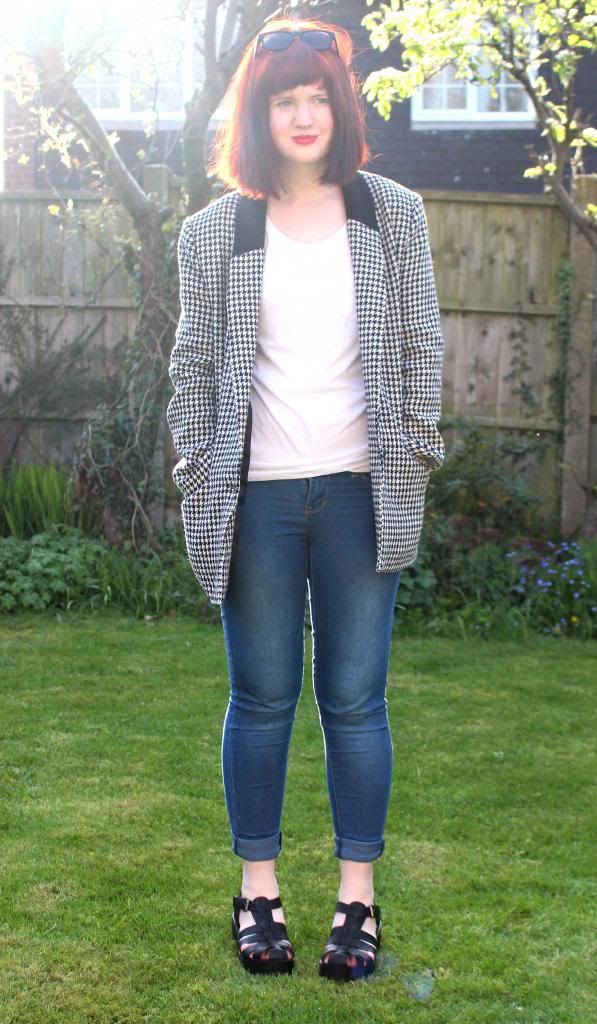 It's been a while since my last outfit post because I've managed to lose the remote for my camera. I have no idea where it's gone, I've gutted my bedroom since I lost it and it still hasn't turned up! Luckily, I ordered a new one (they're only
£3 on ebay
!) and it arrived yesterday so I'll soon be back to posing around in my garden.
I took these photos last week, it's just a simple outfit that I wore to run some errands and then go to Lichfield with my mom so she could get some last minute bits before she flew out to South Africa. It was a lovely warm day and I had to wear my sunglasses for the first time in a while! I find it hard to find sunglasses that fit me because I have such a small head. Kids' sunglasses fit me but they're often really babyish, this Bench pair are perfect though! Who knew that sunglasses also came in a petite size?
The jeans and the tshirt are just Primark basics. The tshirt is quite sheer and has a pocket on so it's not as basic as it could be, I think it's great for pairing with something simple like the jeans to make an outfit look a bit more put together. I got the blazer in a swap on Vinted, it was brand new with tags and is originally from Glamorous. I swapped it for a dress and cardigan that I no longer wanted. I absolutely love it and I'm going to find as many ways to wear it as I can so keep an eye out for it in some upcoming posts!

PS. Don't forget
to vote for me in the
StyleFruits Pastel Me Pretty competition
, you can vote once a day!