Here's a new feature for my little blog. Basically, each week I will pick a shop (online or on the high street) and will find an outfit for £100 or less. At the moment and any extra pennies I get are going straight into my Paris Fund but if someone presented me with £100 as an early birthday present and told me I HAD to spend it at
Dorothy Perkins
or else, this is what I would buy..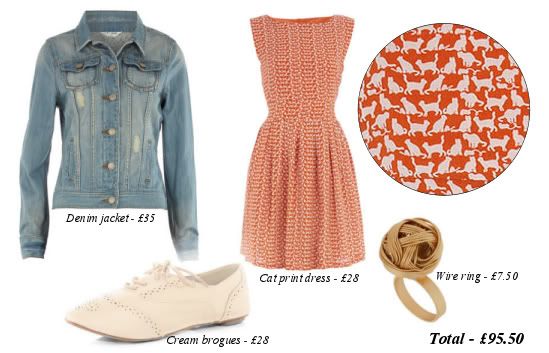 This outfit came to a bargainous £95.50 which leaves just enough change for a Starbucks after a hard day's shopping.
I chose the
denim jacket
because I have been looking for one for ages and this one is perfect! It's just the right shade of blue and has long sleeves. I wasn't too keen on all the cropped ones I've been seeing around.
The
cat print dress
caught my eye because, well.. it has cats on it of course! If you know me, you'll know I'm a bit of a crazy cat lady so if something has cats on it, I NEED it! It's also a lovely summery orange and would also look great in the winter with a pair of black tights and a black cardi over the top.
The
cream brogues
are a lovely summery shoe and are a welcome change from the usual black and brown brogues. These will go with almost anything, from summer dresses to skinny jeans.
The outfit didn't need a necklace as the neckline of the dress is quite high and any bracelets would be hidden by the sleeves of the jacket. I picked this
wire ring
as I don't believe that any outfit is complete without a ring!
What do you think of the outfit I've chosen?
If you had £100 to spend at
Dorothy Perkins
, what would you pick?
PS. This is my 100th post! I never thought I'd keep this blog up for a month, let alone still be posting 8 months later and have 100 posts and 188 followers!