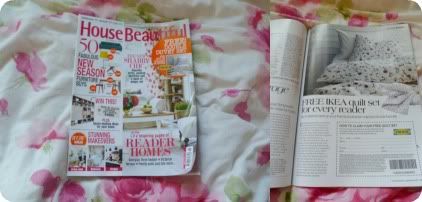 In September's issue of
House Beautiful
(which is out right now), there's a voucher for a free
Alvine Orter
duvet set including four pillow cases from IKEA, worth £11.99. The voucher is valid from August 1st to August 28th so you've still got plenty of time to head to IKEA and pick one up. The magazine costs £3.40 and I picked mine up from my local M&S but I've also seen it in WHSmith and I'm sure it is stocked elsewhere.
I've never bought House Beautiful before but I picked it up for the voucher as I'd been after this particular duvet cover for a while anyway. It's a great magazine and I'm looking forward to having a good flick through. It also gives me an excuse to go to Southampton now and have a good nosey round IKEA!
Let me know if you decide to take advantage of this brilliant offer too!