I was overwhelmed at the response I got from this feature last week - I really wasn't expecting it to be such a hit! So, here it is again this week, featuring
Miss Selfridge
.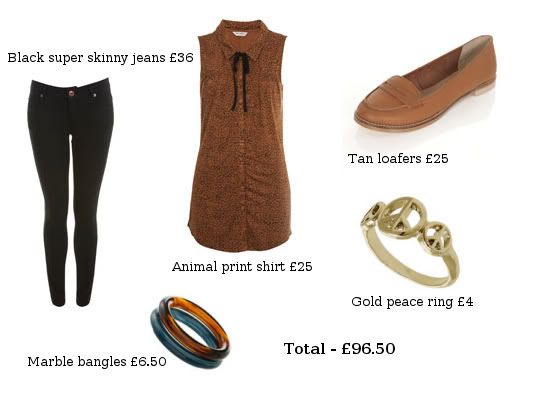 Recently, I've started loving my jeans again and I've been searching for the perfect black pair. These
black super skinnies
seem like they could be it and at only £36 they're a bit of a bargain too seeing as they're so versatile and can be worn with almost anything.
As soon as I saw this
animal print shirt
it reminded me of the lovely
Claire
after she wore a sheer shirt and ribbon bow combo for the Brum Blogger Meet. It was definitely love at first sight with this shirt, I love leopard print but sometimes it can be a bit too in your face. This tan colour with the small print is lovely and subtle. I would definitely get a lot of wear out of this.
A lot of people think that black and brown together is a big no no, obviously I'm not one of those people. I think that these
tan loafers
are lovely and will go with everything. I really need a pair of tan shoes as the soles on my boots are literally hanging off! I think they go really well with the shirt and make the whole outfit look really smart.
I don't think I really need to explain why I picked the
ring
really, do I? Look at it, it's perfect and we could really do with a bit of peace in England at the moment, couldn't we?
I picked the
bangles
as the brown one goes nicely with the whole outfit and the teal one would add a nice pop of colour to an otherwise black and brown outfit. It's always nice to wear a couple of bracelets or bangles when you're wearing a sleeveless shirt.
The whole outfit comes to a grand total of £96.50 so that leaves £3.50 to spend on some fruit jellies and a Starbucks (my weaknesses at the moment!)