Although I love travelling, I haven't actually been to many places so far - I've been to most of the major cities in the UK and a few in France and Belgium. I tend to revisit those that I love the most and because of this, I feel like I know my favourite cities like the back of my hand.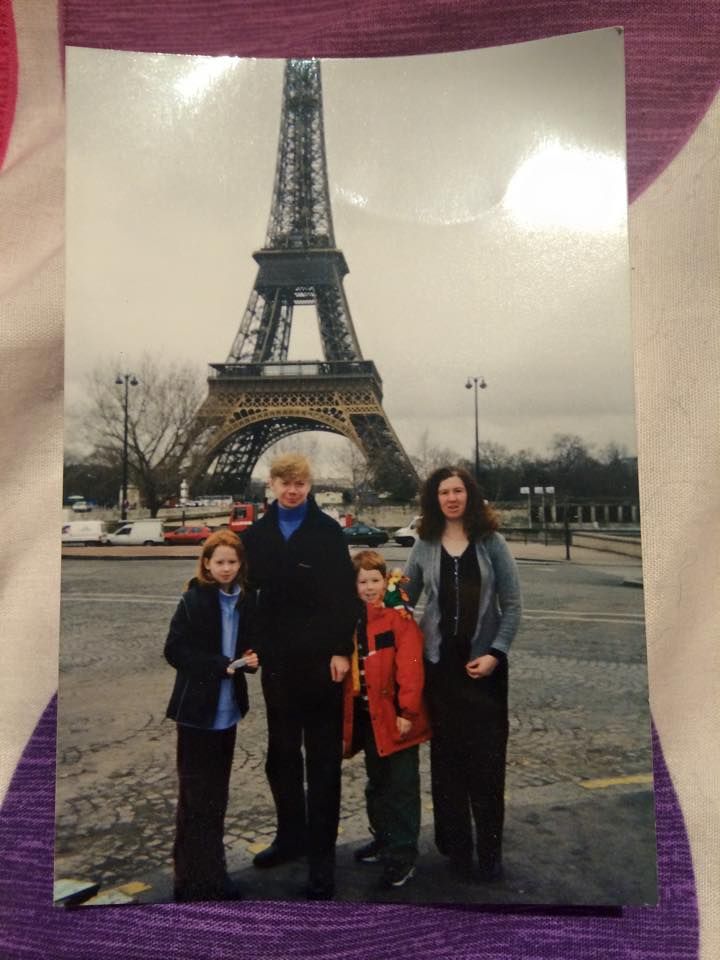 My first trip to the French capital in 2001 when I was 11 years old
Today I'm going to talk about one of those cities, Paris which is somewhere that is on most people's lists of places to visit. I've been lucky enough to have been five times so far although I've only been able to properly explore the city twice. After spending so much time in the city, I've managed to do almost all of the major tourist attractions and I've also been able to check out some great places that are not as well known. Here are three things that I love about Paris.
1. The food
You can't talk about Paris without talking about the food. Seriously, there's nothing like a proper French croissant in the morning or a Croque Monsieur for your lunch. Paris is home to thousands of amazing little brasseries and cafes, it's not all about frogs legs and snails y'know! When I went to Paris in October 2013 with Amy, we ate some fantastic food and it was all at a great price. People seem to think that Paris is expensive but it's just like any other city. Of course there's going to be the places around the major tourist attractions that up their prices but you can always find somewhere nice at a good price and have a decent meal - you don't need to go to McDo despite it being a hundred times better than the UK's McDonalds! If you're feeling flush you can always stop off at Ladureé and have a €7 coffee eclair like I did. One of my favourite meals was at a place called Le Ronsard just opposite Sacre Coeur.
2. The history
I'm a massive history nerd (I have a degree in Archaeology!) and Paris is just brimming with history. Everywhere you go has a different tale to tell, from the storming of the Bastille to the execution of King Louis XVI to the erection of the Eiffel Tower. I just love finding out more about the history and the culture of the city whenever I go. The photos above show the tomb of the unknown soldier under the Arc de Triomphe and the view from one of the towers of Notre Dame which I believe is the best view of Paris. On my next visit, I hope to take a trip to Versailles and finally visit the Catacombs too.
3. The art
Paris is famous for its museums and art galleries. I wish I could say I'd been to each one but there's just too many! Did you know that if you stopped and looked at everything on display in the Louvre for 30 seconds each, it would take you 100 days to see everything? And that's without a break! My favourite museum (that I've been to so far!) is Musee d'Orsay. I'm a big fan of Impressionism and I got to see one of my favourite paintings, Starry Night Over the Rhone by Vincent Van Gogh. I would love to go back and see it again, the museum itself is beautiful too - it's a converted railway station which you can see in the above photo. One place I would love to visit next time is the Centre Pompidou - a Moden Art museum. You may have heard of it or seen photos - it's a crazy inside out building which looks fantastic. I've walked past it but have never been in.
So those are my three favourite things about Paris - I could go on and on for hours but I think I should leave it at that! I'll just quickly mention my other favourite places that you NEED to visit when you're in Paris - Café des Chats (a cat cafe!), Galeries Lafayette (the Parisian version of Harrods but a thousand times prettier and there's macarons around every corner), Montmartre (home of Sacre Coeur, Moulin Rouge and the infamous Red Light District - it's also great for cheap souvenirs) and of course Disneyland! If you want to see all of my other Paris related posts, just click here.
This post is an entry into the Accor #3Cities competition