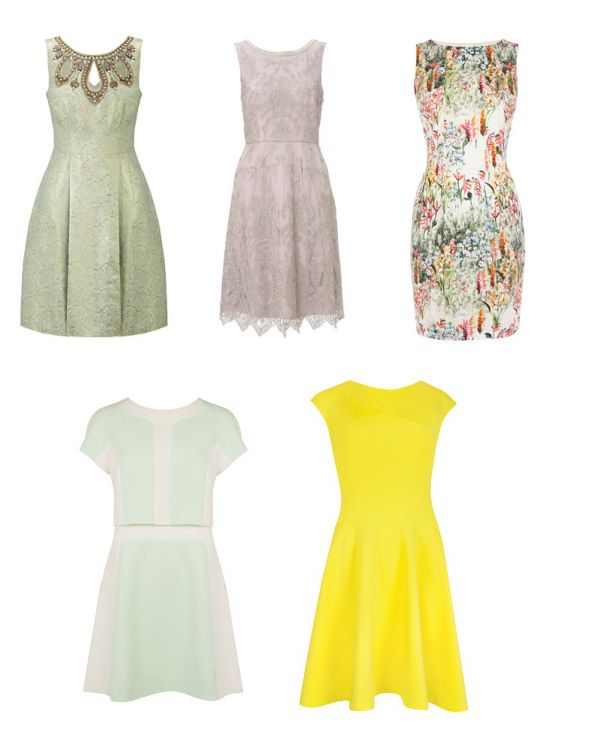 It's not often that I get the chance to dress up and look pretty but I have three events this summer which require formal wear - two graduations (my mom's and my brother's) and a wedding, so I was hoping to get a dress for at least two of those (apparently I can't wear the same dress to both my brother's and my mom's graduation) and I've been on the hunt for a good couple of weeks.
Last week I did spot a beauitful Ted Baker dress in the window of a local boutique when I was on my way to work but unfortunately, when I managed to track it down in Selfridges I found that it was way too long for me and I don't want to have to pay for it to be taken up after spending a breathtaking £239 on it in the first place. I've found five that I really like but I think my ultimate favourite from this wishlist is the green bejewelled one, it's so pretty and it would really suit my colouring. It's unlike any dress I've ever had before and I think I'd feel incredibly posh in it which is ideal for the wedding which is in Winchester. All of the dresses that I have featured in the above wishlist are over £100 but I really don't mind spending a lot on such a pretty dress, especially as I know that I can wear it more than once this summer and I can always keep it safe for any other special occasions like the races or maybe even a trip to Kempton?
Although as I mentioned earlier, I have been told that I can't wear the same dress to both graduations so it looks like I'm going to have to get two. If this is the case, I've seen a few lovely cheaper ones in shops such as New Look and Dorothy Perkins where there is also the option of student discount. I also have the option of this gorgeous floral Joe Browns dress which I posted about last week which is definitely graduation appropriate but I think it feels so much better at these kind of events when you have something brand new to wear, it's so much more exciting.
The only problem I'll have after finding a dress (or maybe even two – or three!) is that I will then have to find a pair of shoes and a matching bag as well and maybe some accessories to go with it too. I love a good excuse to go jewellery shopping. Shopping for formal wear is so hard when you live in Primark and New Look clothes but I'm sure I can manage it, I'm not sure my bank balance will feel too good afterwards though.
Do you have any formal occasions coming up? Which of these dresses do you prefer?
If you have any other ideas for me, please let me know! I still have a month or so left until the first graduation.