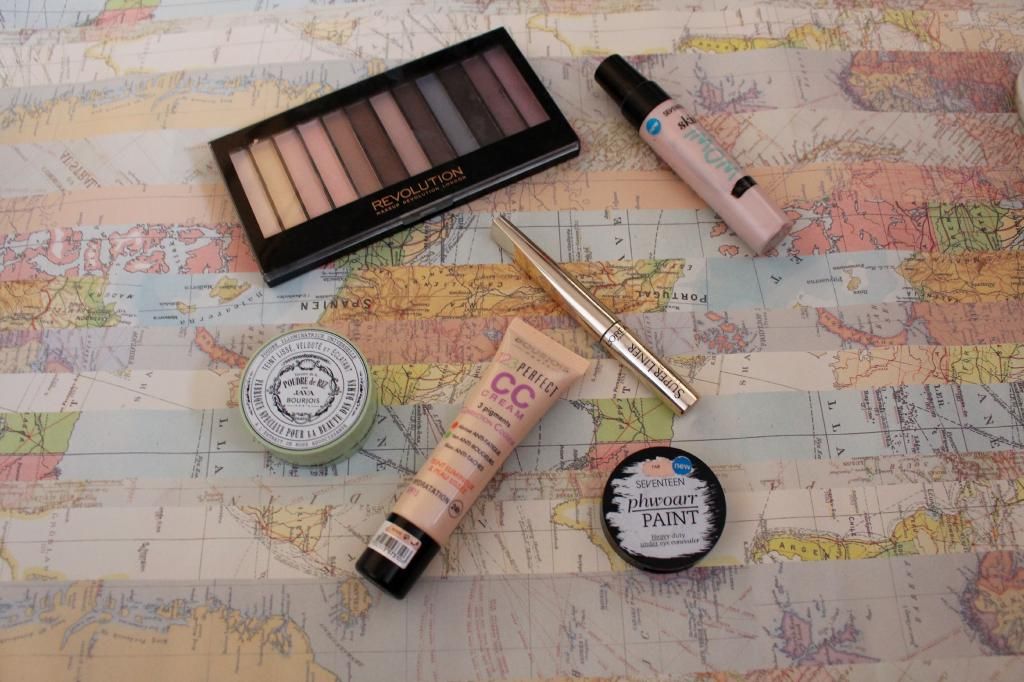 Makeup Revolution Essential Mattes palette* - £4, available here
I d
edicated a whole post
to this last week but it's something that I've been using a lot throughout the last month. I've been sticking to simple eye looks and have barely touched my Naked palettes recently, instead I've been favouring the neutral matte shades in this palette. I tend to use one of the lighter shades (usually the fourth one from the left) all over my lid, with a darker one in the crease.
I bought this a few months ago but haven't mentioned it on my blog at all yet which is surprising as I've been using it a lot since I got it. This is a 3 in 1 highlighting primer so you can either use it alone (which I wouldn't recommend unless you want a face like a disco ball), underneath your base as a primer or you can mix it into your foundation. I usually use it as a primer if I'm using a lighter base or if I'm going for something heavier like Double Wear, I'll mix it in with that. It gives a fantastic natural looking glow which really helps to perk up dull and sallow looking skin. I tend to use it more often if I've not been getting a lot of sleep!
This transparent powder, also adds a gorgeous glow to the skin as well as helping to set your makeup. I tend to use this all over the face to set my concealer and base product before I apply the rest of my makeup. It smells amazing (kind of an old lady scent but I love it!) and is so finely milled that I find it doesn't look cakey at all. I really hope that this isn't limited edition as I'll definitely want to repurchase!
Bourjois CC Cream
- £9.99,
available here
I heard A LOT about this product on Twitter and all over beauty blogs so I just had to pick it up and try it out for myself. I've used a couple of BB creams before and wasn't overly impressed so I wasn't sure what to expect from a CC cream. I was pleasently surprised - I adore this and have been using it almost everyday as my base. It provides a great medium (but completely buildable) coverage and really helps to even out my skintone without making me look too made up.
I picked this up on a bit of a whim when I was in Nottingham last week for a hen do. I've heard a lot about the L'Oreal liners before but wasn't sure which one was the best. I'm so glad I opted for this one in the end as I think it's possibly the best eyeliner I've ever used. I love the brush which has a kind of felt tip nib and is so easy to apply. It also lasts all day, I've even had a nap wearing this and have woken up with it still looking perfect! I'm going to have to have a look at more L'Oreal products now.
I bought this last year, just before I went to Paris and it's been my staple concealer since then. It works great under the eyes to hide any dark circles and it also covers blemishes well. I always have it in my handbag for touch ups on the go as it also has a handy mirror in the lid. It's an amazing product for the price and I've only just hit pan a couple of weeks ago!