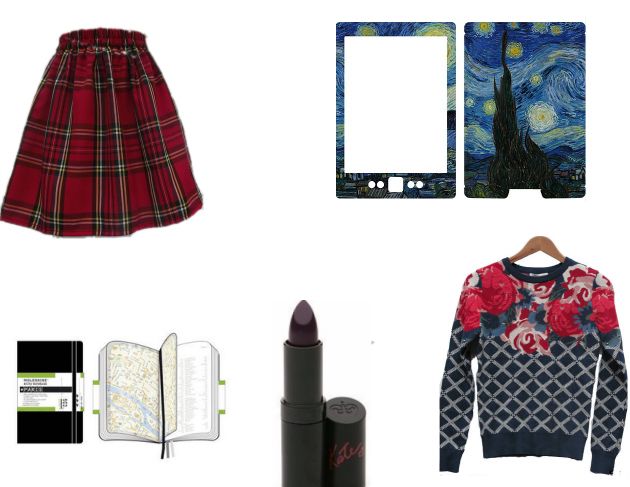 I've been looking for the
perfect tartan skirt
for absolutely ages! I wanted one last year but didn't manage to find one and then I came across this beauty on ebay and I ordered it straight away. It arrived yesterday and it's just what I was after. I can't wait to wear it with thick tights and boots.
My current kindle case is looking a bit tatty so I was thinking of brightening it up a bit with something else to give it a bit of extra protection. This
Van Gogh kindle skin
sticks straight onto your kindle and is a quick and easy way to jazz it up a bit.
You all know I'm going on a trip to Paris with
Amy
in a few weeks and while I was up at her house a couple of weeks ago, we were looking at things to do while we were there. I came across this
Paris Moleskine
online and I knew I had to have it! It's a few quid cheaper on ebay than it is in the shops so I'm going to ask for this for my birthday and hopefully someone will get it for me.
I'm obsessed with purple lipsticks at the moment and the
Rimmel x Kate Moss lipstick in 04
is one that I have never been able to find in shops. I have no idea why, but there's never even a space for it! I thought I'd check ebay for it and I managed to snap it up for only £2.99! I can't wait for it to arrive, it will be great for the coming months.
I'm thinking of stocking up on knitwear this year as all mine is getting pretty tatty. I found this
gorgeous rose jumper
and I think it will be great paired with jeans and boots with a shirt underneath when it's freezing and it will also look nice in the spring.