Maybelline BB Cream in Light RRP £7.99
Maybelline are one of the latest brands to jump on the BB bandwagon. I've been on the lookout for a new BB cream/tinted moisturiser for those days when I don't want/need to wear a more expensive foundation such as Double Wear. Maybelline are currently giving away samples of their BB cream in the shade 'Light' on their
facebook page
, so I signed myself up for some.
This BB cream claims to have 8 benefits in 1:
Creates a natural glow
Compliments skin tone
SPF 30
Hydrates all day
Blurs imperfections
Oil free, non greasy
Looks visibly smooth,
Feels fresh
I love that this contains SPF 30 as I've started to worry about the effect of the sun on my skin as a few lines have started to appear. When I first swatched the cream on my hand, it did look too dark for me, however, when blended onto my face, it was a perfect match for my skin. It definitely compliments my skin tone! It didn't exactly 'blur' my imperfections as I've got a bit of a bad breakout on my chin at the moment, it did even out my skin tone everywhere else though and I used concealer as normal. It isn't greasy at all, and looks smooth like they claim. It gives a lovely dewy glow which is perfect for the summer. It definitely feels a lot fresher than the foundations I usually wear, I didn't feel like OH MY GOD I HAVE TO GET THIS MAKE UP OFF RIGHT NOW, MY SKIN CAN'T BREATHE!!!! as soon as I got in the house like I usually do but I did take it off as soon as I could. Below, you can see my face before and after application.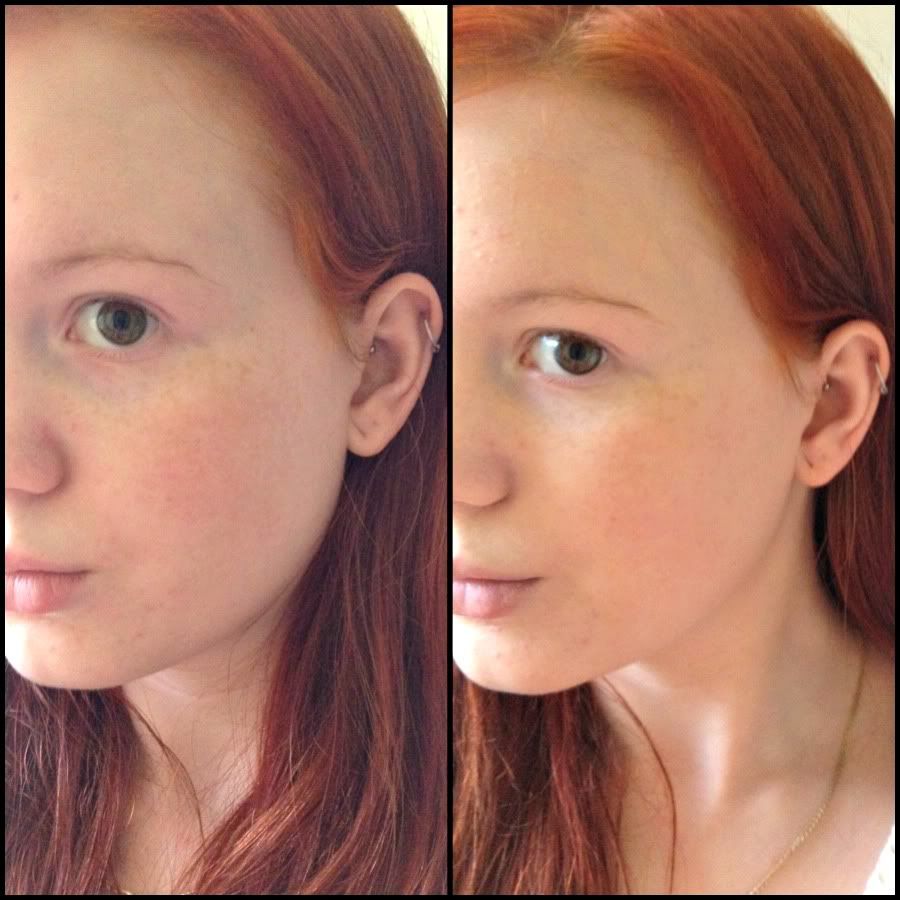 Left: Naked face Right: Wearing just the Maybelline BB cream
Overall, I think this BB cream is one of the
better ones I have tried
and I will definitely be picking a tube up to use on the days when my skin is looking pretty good anyway and I'm just going to work. It's definitely worth the £7.99 price tag and there's usually offers on in Boots and Superdrug anyway so I'm sure I can get it a bit cheaper. It's available in 4 colours.
Have you tried this BB cream? What do you think of it?
What is your favourite BB cream?