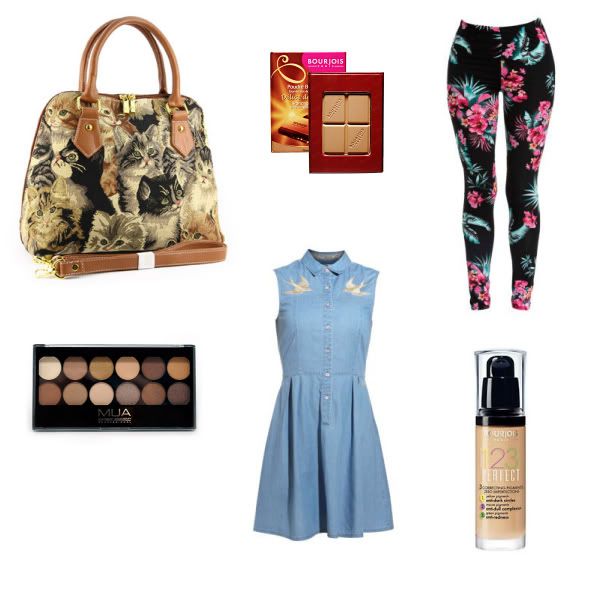 Everyone should know I'm a crazy cat lady by now! This tapestry bag is perfect for me, although I can't see many other people agreeing with me. I showed my dad last night and he told me it was "for old ladies"
.
I really want to learn how to contour my face properly, so I need a decent bronzer. I did buy one from MUA but it was a bit too sparkly for everyday use. I saw this Borjouis one on
Kate's
blog and a couple of people have said it's really good so now I want to give it a go. It looks and smells like chocolate so that's a bonus!
These floral leggings look like a good alternative to the H&M floral trousers that have sold out everywhere. I managed to find a pair in a size 8 in Birmingham but I went away to think about it and when I went back an hour later, they'd gone! I bought a pair in a size 12 to put on eBay anyway, so hopefully I'll make a bit of money off those.
I don't really need a new foundation but this new one from Bourjois claims to perfect your complexion using three different pigments (hence the name). My Double Wear has been feeling a bit heavy on my face recently so a lighter coverage would probably be better for the summer.
I absolutely love this denim dress and it would be perfect for the summer. However, I'm not so keen on the £82.99 price tag! So if anyone knows where I can get a similar one at a cheaper price, please let me know!
I don't really wear eyeshadow a lot but I've been eyeing up the Naked palette. Instead of shelling out £30 for something I won't get a lot of use out of, it makes a lot more sense to go for a £4 alternative from MUA which has had some brilliant reviews.