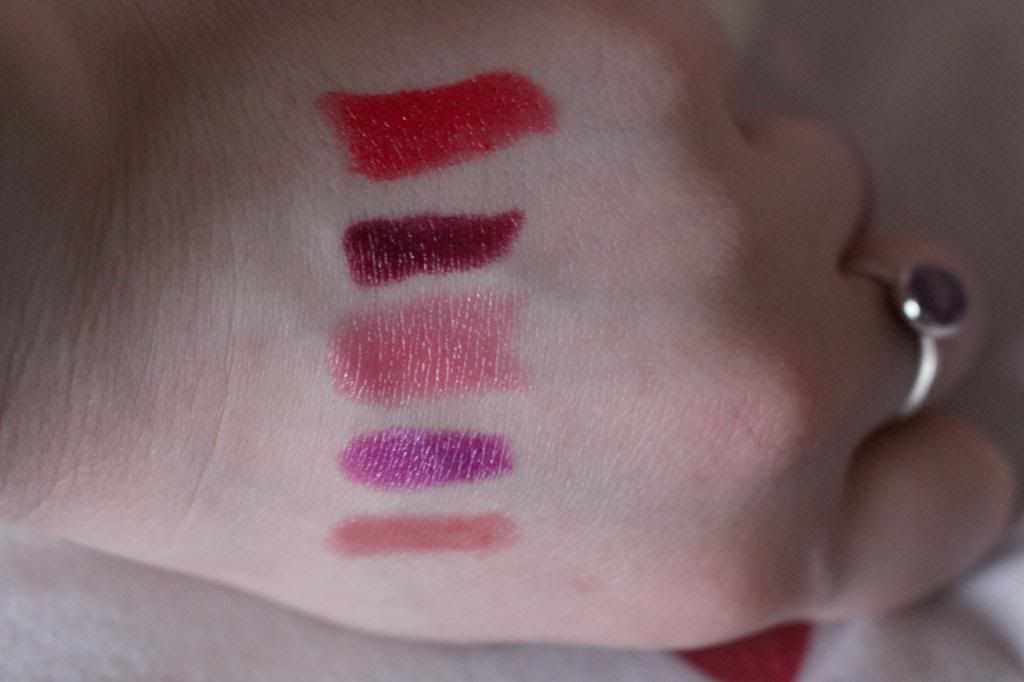 YSL Rouge Volupte #34 Rose Asarine- I bought this on a whim when I was wandering around Birmingham killing time on a payday. I'm so glad I got it though. YSL's Rouge Volupte lipsticks have the best formula of any lipsticks that I've tried. They're incredibly pigmented as well as moisturising and long lasting. When they do fade, they leave a stain behind instead of a ring of colour which is fantastic. This particular shade is a gorgeous vibrant dark pink which looks almost red in some lights.
Rimmel Moisture Renew in Dark Night Waterl-oops - I bought this in the Autumn but it's a colour that I hope to pull off year round. A gorgeous dark berry purple which is totally wearable in the daytime despite the name. Like the YSL lipstick, it's moisturising and super pigmented. I find that this lasts for hours without needing a top up unless I eat something realy greasy.
Revlon Lip Butter in Sorbet
- I just had to buy this after I saw
Elizabeth
applying it on one of our date nights. It's a beautiful sheer pink shade and is perfect for adding the finishing touch to a natural makeup look. As the name suggests, it's a lip butter so again, this is really moisturising. It needs topping up after an hour or so as it wears away quite quickly but I love it so much that I can ignore that.
MAC Violetta
- This is a pro shade so can only be bought in a MAC pro store. I got this from the Carnaby St store when I was in London with
Chloe
in January. I didn't need it but I felt like I had to track it down and see what it was like for myself after seeing a few reviews online. Violetta is a violet purple with red undertones and a hint of shimmer. I find that the red undertones mean that I can wear this to work without getting funny looks off old ladies but it's also a great stand-out colour.
Revlon Colorburst Kissable Balm Stains in Honey - This was another impulse purchase recently. I was buying two other Revlon products and they were on 3 for 2 so this ended up being my third. It's a definite 'my lips but better' colour. I find that it doesn't really alter the colour of my lips at all but it adds a lovely glossy sheen without the stickyness of a lipgloss. It's also lovely and moisturising like a lip balm and lasts for a good couple of hours before a top up is needed.