This week, I've picked
New Look
to spend my imaginary £100 in. New Look is one of my favourite High Street shops. Not only are they always on trend, their clothes are always at very reasonable prices too.. plus they also offer 10% student discount which always rises to 20% around loan time (very sneaky!)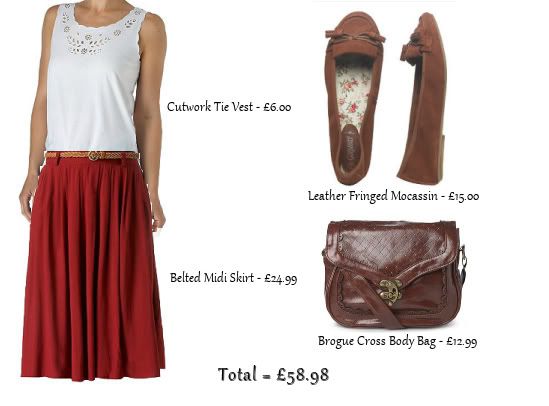 This look is very summery and would be no good with the current weather that we're having. I'm still hoping that the weather's going to pick up and maybe we'll have a sunny September. If that did happen, this is definitely the sort of outfit I'd want to wear. The
pleated midi skirt
can be found in a lot of shops at the moment but this one is a great price at only £24.99. It also comes in a range of different colours, the dark red was my favourite though. It will look great in the autumn too, I could see myself wearing it on a nice sunny day in October (preferably my birthday if you're reading this, Mother Nature) before the weather gets too cold.
The
cut out vest
I have chosen is actually meant to be tied at the bottom, but in this outfit I'd tuck it into the skirt. I love the cut out detail and the scalloped collar. I would wear this top with a lot of different outfits, it would also look great with a pair of high waisted denim shorts!
I really need to get myself some
brown or tan moccasins
, I've featured them in so many wishlists so far. My beloved black ones wore out and I've yet to replace them. The ones I've chosen here are so cheap at only £15 and they're real leather! You can't turn them down at that price, can you? They'd also go with a lot of outfits, especially jeans when it gets a bit colder.
The
brogue bag
is a lovely colour and is in the same style as a pair of brogues, which I love. Again, this would go with a whole load of different outfits. The colour would work with anything and it looks smart but also casual at the same time. You could even use it on a night out!
The grand total of this lovely outfit is a bargainous £58.98! This is why I love
New Look
! There would be enough left over to get another outfit. Now I just need someone to give me some money or gift vouchers, I wish my birthday would hurry up!
What would you pick if you had £100 to spend in
New Look
?