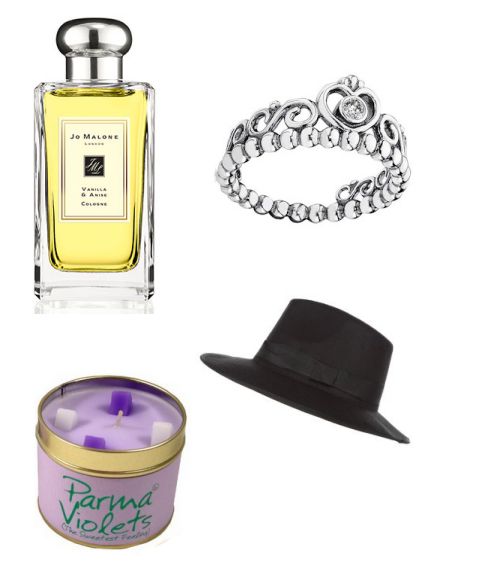 Jo Malone Vanilla & Anise Cologne - Pandora Tiara Ring - Lily Flame Parma Violets candle
- Black fedora
Three weeks today it will be my 25th birthday and people are starting to ask me what I want. I feel that 25 is a big birthday so I've booked a table at Malmaison in Birmingham to have a lovely three course brunch with some of my best friends which I'm really looking forward to. That's honestly the only thing I really want for my birthday, but there are a few bits and bobs on my wishlist.
I discovered this Jo Malone cologne in London yesterday. My friend Jess had gone into the shop to choose one for herself and obviously, I ended up having a sniff of them all and I fell in love with the Vanilla and Anise. Vanilla is my favourite scent and I just love the spicyness that the anise gives to it.
I've wanted the Pandora ring since last Christmas, I even put it in a wishlist post. However, it sold out EVERYWHERE and I couldn't find it. Thankfully, it's in stock at the moment so I've been in store and tried it on so I can tell my parents which size I need.
I've just finished this gorgeous Lily Flame candle and would love another one. They're only £6.99 so I could just buy one myself but I thought I'd ask for it for my birthday instead. It's such a lovely scent and smells exactly like parma violets.
Finally, I'd love a nice fedora for the autumn and this New Look one fits the bill quite nicely. It's only £14.99 as well and just what my wardrobe needs. I'm definitely a hat person and can wear most styles.
So, that's it. I'm not asking for a lot as we don't do extravagant birthday presents in our family. I wouldn't feel right asking for something like a Michael Kors bag even though it's definitely something I would love to have one day.