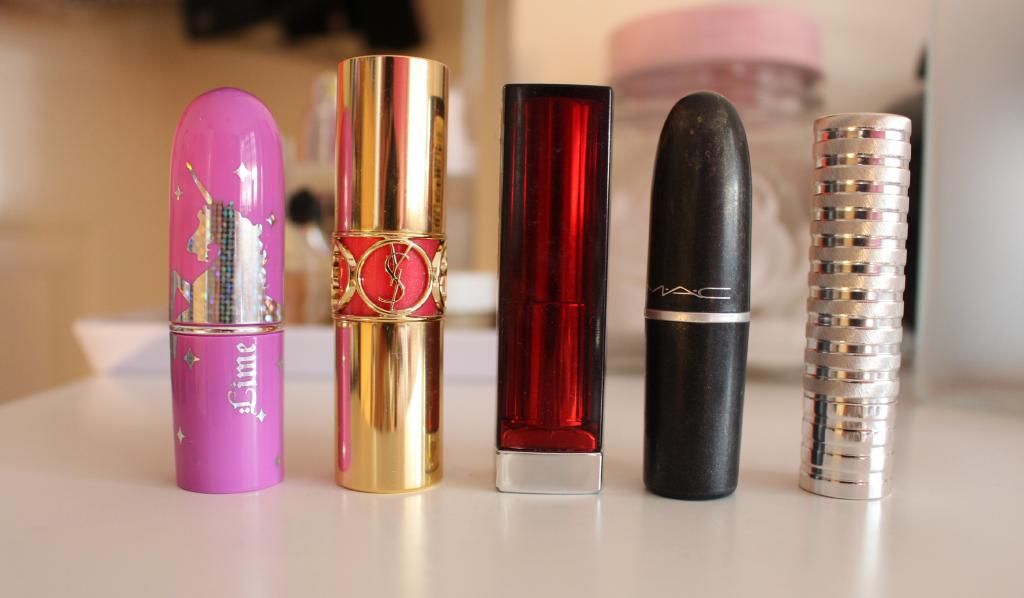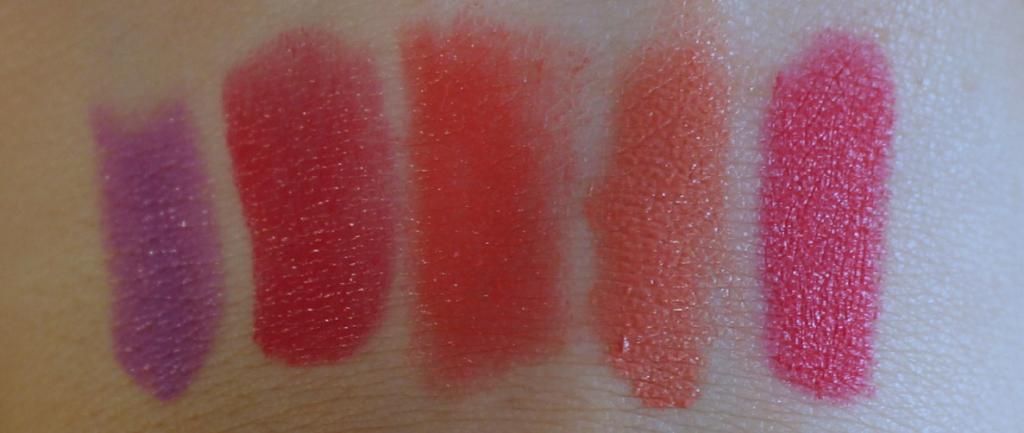 Lime Crime Opaque Lipstick in Airborne Unicorn, available here
This is my first and only Lime Crime lipstick. They're not readily available in the UK, there's no stores that sell them so I've never bought one as I don't like the idea of not being able to swatch them first. However, I won this recently and I was over the moon. It's a lovely violet purple which is really wearable. As the name suggests, it's opaque and very pigmented so you don't need to spend ages building the colour up. I've found that this lasts a long time on me as long as I don't eat or drink too much - I only need to reapply after around five hours.
YSL Rouge Volupte in 34 Rose Asarine, available here
The Rouge Volupte lipsticks are my absolute favourites in terms of packaging, they're just so glamorous and look great on my dressing table. Luckily the lipsticks themselves are also fantastic; last year I reviewed #17 Red Muse. Rose Asarine is a bright reddy pink which is a great everyday colour. As with the rest of the Rouge Volupte collection, this lipstick is very creamy and moisturising on the lips. It lasts around four hours and fades away to leave a stain.
Maybelline Color Sensational in Coral Tonic, available here
I think this is the oldest lipstick in my collection - I bought it in my second year of uni and I still love it. Coral Tonic is exactly what you'd think it would be, a gorgeous neon coral which is perfect for the summer. I absolutely adore this colour and get so many compliments when I wear it. It lasts around three hours before I need to touch it up. It also has the most amazing scent which reminds me of playdough.
MAC Cremesheen in Ravishing, available here
This was my second MAC lipstick and I used to wear it a lot when I was at uni, when I only had around six lipsticks in my collection. It doesn't get a lot of love now but I always bring it out in the summer. Ravishing is a soft peachy coral which is a colour I wouldn't have thought I'd be able to pull off with my pale complexion, however it somehow works. I think this would look fantastic on darker skintones too. The staying power isn't great, I have to reapply after around two hours but I think the colour more than makes up for that.
Clinique Long Last Soft Matte lipstick in Peony*, available here
Before I received this lipstick, the only Clinique makeup I'd tried were the Chubby Sticks. I wasn't sure what to expect as I hadn't hear a lot about them however Peony is now one of my favourite lipsticks and has barely left my lips over the last couple of weeks. Clinique have managed to create a range of matte lipsticks that are really creamy and moisturising which is a welcome change from the usual drying matte lipsticks you find from other brands. Peony is a beautiful bright pink and lasts around four hours on the lips before a touch up is needed.