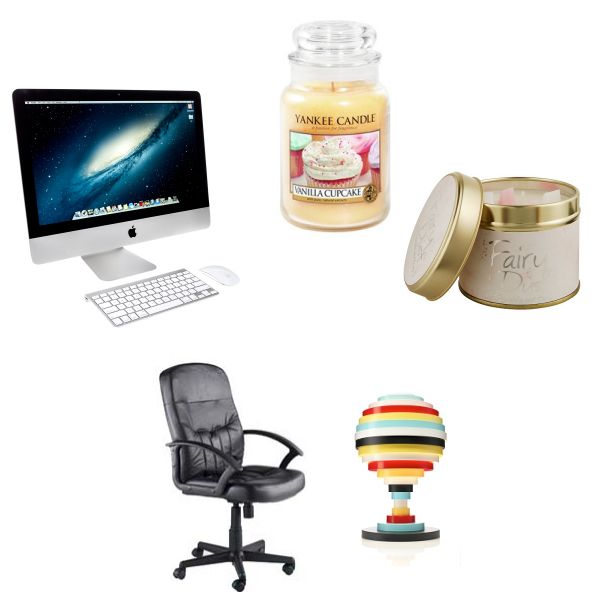 I spend a lot of time at home hunched over my laptop, whether I'm working on my blog or an article or just messing around on Twitter or various other social networking sites. My current set up is not very good for my back at all, you may not know that I have scoliosis and sciatica, so sitting on my bed with my laptop is not really the best option for me. I've decided that from now on, I'm going to be more careful and either set my laptop up at a desk or use the iMac which is already on a desk. Working from my bed also means that I struggle to sleep as I spend so much time on my bed that when I try to doze off I can't – I associate my bed with work and netflix, not sleeping. Oops!
Recently, I've been looking at was to make blogging a lot more comfortable for me. The first step I'm going to take is to get a nice new chair. There's nothing better than a big comfy leather chair with arms, especially one that swivels. Sitting up straight in a chair will be so much better for my spine than what I'm currently putting it through. I've found a few great options from Furniture at Work who have an amazing selection of desks and bookcases as well as other office essentials. You can see the chair that I've picked out in the image above. I also want to jazz up my work space a bit to make me want to sit there instead of on my nice comfy bed. A lamp would be a great help as it will stop me from straining my eyes when I'm trying to see the keyboard on one of my late nights – I'm regularly up at all hours finishing off blog posts! How cute is this multicoloured lamp that I found on lampcommerce.com ? It looks like it would give off a really gorgeous glow.
I also fancy getting a few candles, I always like to have a nice scented candle burning in my room as I find them really relaxing. I tend to go for foody smells like vanilla or baked goods (my absolute favourite is Vanilla Cupcake from Yankee!) but I also love anything with a violet or rose scent. If I fancy treating myself then I like to buy a few different candles and have them lit around my work space. There's nothing better than relaxing in a nice comfy leather chair and having some scented candles lit around you.
Another thing that I like to have around me when I'm working is prints, especially if they feature inspirational quotes. The ones above are just three of my favourites.. I especially like the last one, that's one of my favourite quotes. I find that having something inspirational on the wall really helps to keep me motivated, especially when I'm struggling with writing a piece. They could also be put in a free standing frame and placed on my desk if I don't want to put nails in my wall.
Do you work from home? What's your working space like?