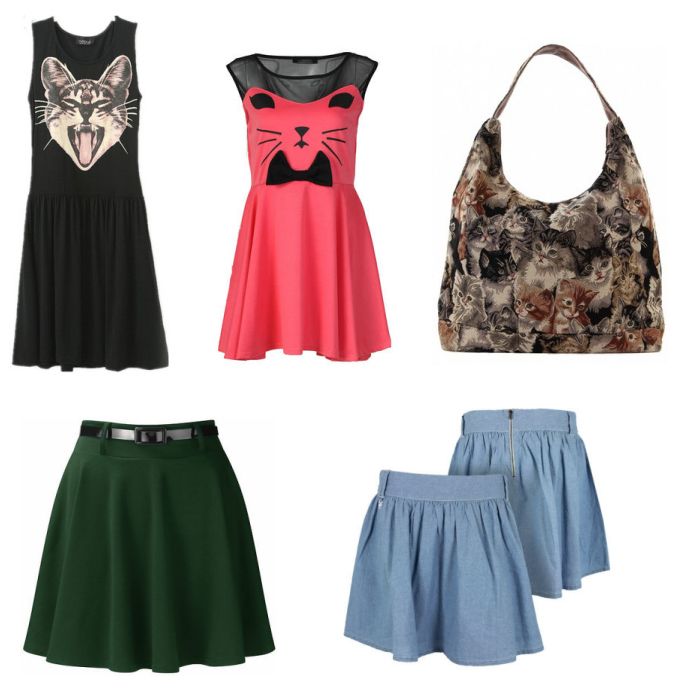 Cat face dress
-
Cat dress with sheer panel
-
Cat shoulder bag
-
Forest green skater skirt
-
Chambray denim skater skirt
This week's eBay wishlist has accidentally turned into the cat edition. Oops. It's no secret that I love cats and I know that a lot of other bloggers do too so I'm sure there won't be any complaints!
First of all I found this
screaming cat dress
(okay, it might be yawning or just meowing but I like to think it's angry!) which is similar to one I saw in H&M, only a lot cheaper! I think this would be great for the autumn with a leather jacket over the top and worn with black boots. Kind of a grunge crazy cat lady look.
Then there's the
coral cat dress
with a sheer panel which I thought was lovely and cute even though you don't tend to get coral cats but it's so pretty and I think it's quite subtle for a cat dress. It's not as obvious as the black one and would be good for a night out.
I've mentioned this print before and I actually have a big weekend bag in it, but this is the first time I've seen a slouchy shoulder bag. Do I really need another
cat bag
though?
As autumn is approaching I'm starting to think about the colours I'm going to be wearing. Forest green is probably my favourite colour ever so this
skater skir
t would be a welcome addition to my wardrobe. I already wear my forest green skater dress to death in the colder months so I would definitely get a lot of use out of the skirt version!
Finally, another skirt I found is this
Fenchurch chambray denim skater skirt
. I wouldn't usually look at Fenchurch products but this one caught my eye as I think it would be very versatile and you could pair it with a lot of different pieces for both day and night.
What have you been loving on eBay at the moment?