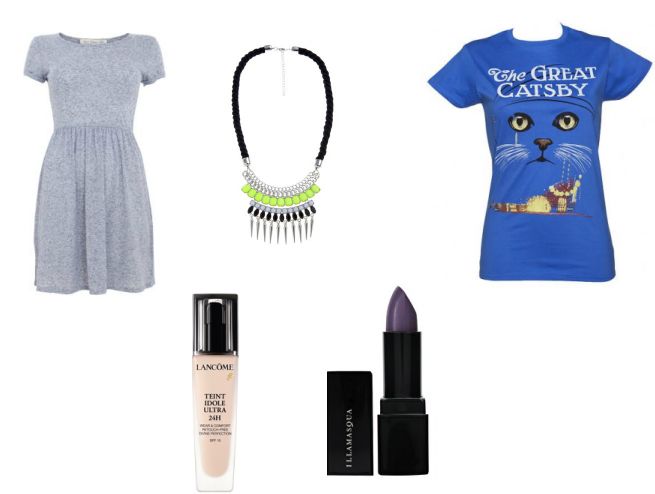 I love tshirt dresses and I don't know why it took me so long to buy one, but I finally got a grey one from Missguided back in February. Since then, it's been one of my favourite things to wear. It's so simple yet it can easily be dressed up or down and it's really comfortable too. I want to get a couple of others ready for the summer in different colours and New Look are doing them for only £12.99.
I think this neon green statement necklace is a great way to dress up a simple outfit like a tshirt dress or a simple tshirt and highwaisted jeans combo. I've not really been a fan of neon over the past few summers but I'd like to try wearing a bit this year and this necklace seems perfect.. it's not too obvious but it still brightens up an otherwise dull outfit.
This tshirt is amazing! I was sent the link to it by a friend and I think it's perfect. I loved the book and the film which I saw on the day it came out last week and I also (as you probably already know) love cats! Unfortunately this is sold out in my size at the moment so I'm going to have to wait until it's restocked or go for a bigger one for a baggier fit. I will own this one day though.
I've nearly used up all of my Double Wear and am looking for a replacement. Most days I wear Bourjois Healthy Mix but for when I need more coverage, I always opt for Double Wear. My friend Hera swears by Lancome's Teint Idole Ultra 24H and after swatching it in Boots I must say I was very impressed! I'm going to get matched up and try out a sample before I make a decision and splash out on it but it looks like I might prefer this to Double Wear!
Illamasqua's Kontrol has been on my wishlist for a very long time and I finally went for it and ordered it on Friday night when they had a 50% off sale on their website. It took absolutely ages for the order to actually process and for them to take my money, I was so relieved when it finally went through. I've never got so worked up about a lipstick before! I can't wait for this to arrive and I will definitely be blogging about my first Illamasqua purchase.
P.S. Don't forget to enter our group giveaway to win a gorgeous handbag worth £225!