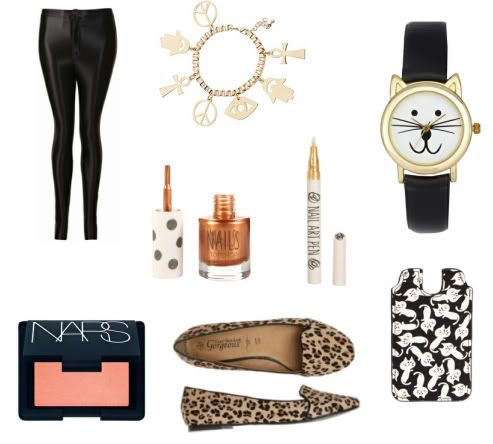 Can payday hurry up please? It seriously feels like I've been waiting two months, not one! Four days and counting now.
I've been waiting for someone to start selling some disco pant dupes as I can't justify spending £75 on the American Apparel versions. This pair from
Glamorous
are only £30. What a bargain!
It looks like I'm loving gold tones at the moment. I really want to try the
Topshop nail art pens
as I've heard they're really good and I love the look of the gold one. The nail polish is such a lovely bronze colour and I haven't got anything like it at the moment.
Topshop have been coming out with some amazing jewellery recently. I love this charm bracelet with the evil eyes and the ankhs. It's right up my street!
I can't resist the cat watch, look at its cute little face! I don't need another watch, I already have three and I forget to wear them but I feel like I NEED this one. I am definitely a crazy cat lady.
I fancy treating myself to a high end blusher and NARS Deep Throat is the one that has caught my eye. It's such a pretty colour! I'm going to have to swatch it when I go to London on Sunday.
I really love these leopard print slippers. I've wanted a pair of leopard print shoes for a while and these look so comfy.
I don't really need the cat iphone case but it's half price and I love it! I'm not sure if my phone would fit in there with a hard case on it too though. I drop it too much to leave out the hard case.
What are you lusting after at the moment?