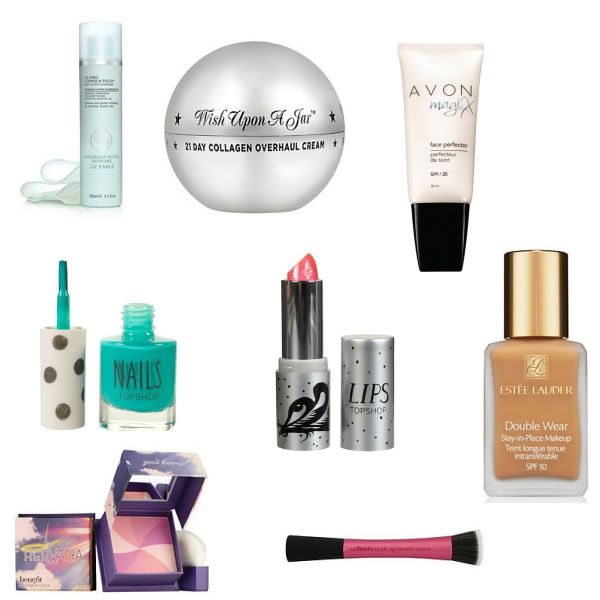 My skin has been in a terrible state recently. I don't know whether it's stress or hormones or both. Whatever it is, it needs sorting out. Usually my skin is quite normal with a few odd spots every now and then, but at the moment it's really dry on my nose and between my eyebrows and I have quite a few spots on my chin. Not a good look! I've been 'window shopping' on the internet for skincare and make up which will hopefully make me look a bit better. Unfortunately, I can't afford to buy anything until payday though. Boo!
I used to have the
Cleanse & Polish
years ago, but I lost it before I came to uni and I'd hardly used any. I remember it worked really well though, so I really want to try it again.
I've also heard lots about this moisturiser,
Wish Upon A Jar
from Soap & Glory. You're supposed to use it twice a day, for 21 days and it supposedly brightens up a dull complexion and helps to banish any blemishes. You then have to wait three months before you can use it again which means the pot lasts a long time.
I seem to have run out of primer at the moment and this
Avon
one is the best one I've tried so far. A little goes a long way and it really smooths out my face and makes foundation last even longer. I highly recommend it! I can't wait until payday so I can get my hands on some more.
This
Topshop nail polish
is one I spotted in the Oxford St store when I was in London last week. It's such a gorgeous vibrant green and would look great for the spring. I haven't got a polish like this at the moment so it would be a welcome addition to my collection.
This
lip tint
is absolutely gorgeous. It's not actually very pigmented but the packaging and the product itself looks fantastic! It's a vibrant pink colour with tiny pieces of silver glitter which don't transfer to your lips. I think it was one of
Louise
's videos that brought this to my attention.
After testing out the
Double Wear
foundation for a couple of months I've decided it's now time to buy it. I started off with a sample in the shade 'Bone' which was far too yellow for my skintone, so I then tried 'Ecru' which was better but again, still yellow. Finally, a lovely SA in Harrods matched me up and we discovered that 'Shell' is the perfect colour for me. I'm currently using my samples of Ecru and Shell up but once they've gone, I'll definitely be buying the full sized bottle. I've found that I only need to use a tiny amount of the foundation but it has a great coverage (even when I'm really spotty!) and can last through a whole 8.5 hour shift if set with a powder.
Honestly, I only want
Hervana
because it looks so pretty in the box. I really don't need another blusher as I've recently bought two but the swatches I've seen on other blogs have made me really want it. The price puts me off a bit though, I don't usually pay that much for a blusher.
Finally, I'm in dire need of a new brush to apply my foundation with. The Real Techniques brushes have caused quite a stir in the blogging world, so naturally, I want to try one. At £11.99 this
stippling brush
is reasonably priced and all of the reviews are good so far. I'm hoping my local Boots gets these in stock soon!
Have you tried any of the products I've featured? What do you think of them?