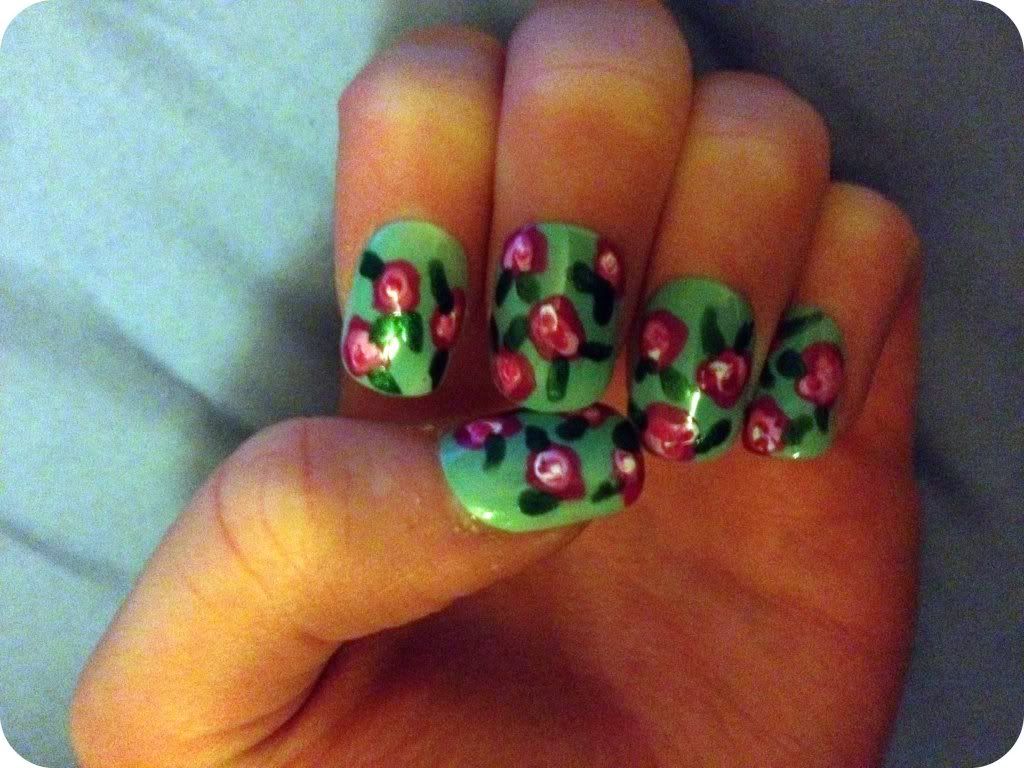 Sorry for the quality of the photos, there was no natural light when I got in from work!
At the weekend I decided to treat myself to the
Nailene Full Cover Active Square
nails. My own nails are in bad condition after being repeatedly painted for the past couple of years so I decided to give these a go. I wanted a nice girly design to wear for when I went out for a friend's birthday and what's more girly than some Cath Kidston style roses? These took me around an hour to paint (while I watched OBEM!) and I left them on my windowsill overnight to dry. Most of the colours I used are Barry M, the white is Natural Collection and the green that I used for the leaves is from Rimmel.
I put these nails on on Sunday night using the glue that was supplied with them. It only took a couple of minutes to apply them and the glue dried really quickly. Three days later, they still look as good as new with no chips and not one of them has shown signs of coming off yet! They're long enough for me to notice a difference but they're also a decent enough length for me to be able to type and use my iPhone. I'm so pleased with these and I'm really glad I bought them. I certainly won't be painting my own nails again in a hurry!
I've also had loads of compliments on these from my friends, customers and people serving me in shops! I've also had a couple of people tell me I should start selling them! What do you think about Nailene? What's your favourite design to paint on your nails?