I got the best surprise in the post today. As well as my train tickets home, I got a mystery envelope. I was in a bit of a rush so opened it while I was waiting for the bus to work. Inside was a personalised Hogwarts letter made by my boyfriend and a bit of cash which has gone straight into my Paris fund. I had a massive grin on my face all the way to work and all through my shift. It's the sweetest, most thoughtful thing I've ever received in the post!
After work I did a bit of shopping in Superdrug. I haven't bought any new make up for absolutely ages! So I treated myself to a couple of nail polishes and a lipstick.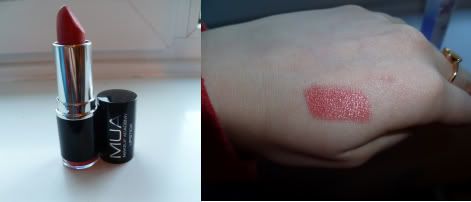 I picked up one of the MUA lipsticks in Shade 7 - I wish they had names instead of numbers! I fancied a new lipstick but didn't really want to spend a lot as I should be saving. I've only ever bought a nail polish from MUA before but I was impressed with that so I decided to try out a lipstick too. For £1, it's fantastic! It's a lovely coral/pink colour with a nice sheen to it. I'm not too sure about the staying power of it as I haven't worn it properly yet, but for £1 you can't really complain can you?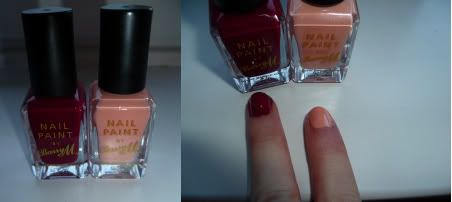 L-R: Raspberry & Peach Melba
Superdrug have a deal on Barry M nail paints at the moment, they're on offer at two for £4.99. I wanted to repurchase Raspberry as mine disappeared and I'm going to use it to do some Harry Potter inspired nail art towards the end of the week. I don't think it's Raspberry is a great name for it, it's more of a red wine colour. Regardless, it's one of my favourite nail polish colours. I've seen Peach Melba on a few blogs recently and wanted to try it out for myself. I love the colour and it looks great after two coats. Definitely a great one for the summer!
I hope everyone's had a great start to the week. I've just done day 5 of my 13 day workathon. It will all be worth it though come payday!!