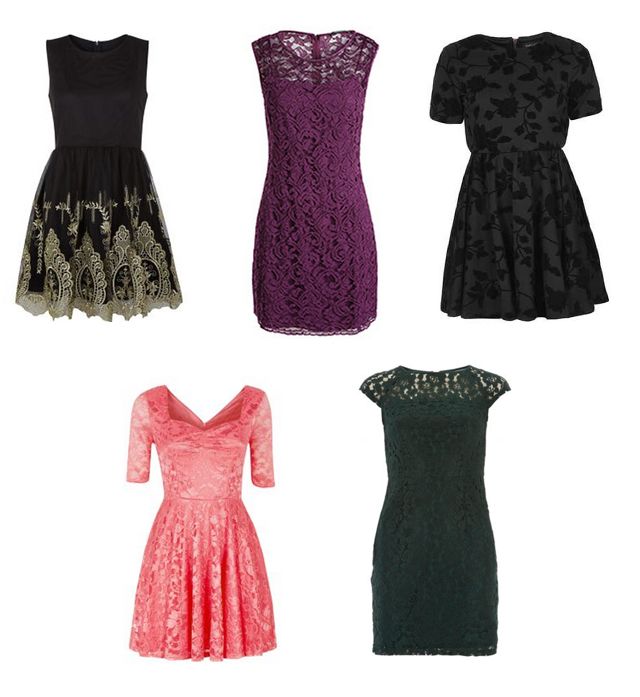 Black and gold skater dress - Purple lace dress - Flocked skater dress - Coral skater dress - Green lace dress
I don't know about you, but it's some sort of tradition for me to have a new dress to wear on Christmas day. I don't leave the house, we just have a family Christmas dinner and I usually have a nap or two but I just love having something new to wear for the special day. This year I haven't managed to choose a dress yet. I'm kind of waiting for Christmas Eve as that's when the sales start so I can pop out in my lunch break (yes, our office is open 24/7 and I have to work Christmas Eve - I'm used to it after years of retail though) and have a nosey in New Look and Dorothy Perkins. I'm not sure what sort of style I'm after this year, hopefully something that's not too tight and will skim over my turkey (and tiramisu) belly.
I really like the purple lace one I found from Esprit, it's the perfect style for Christmas and also the gorgeous coral lace number from New Look. These are definitely in my top two and I think that lace is definitely the way to go. Then there's the more glamorous option of this black and gold skater style dress from Blue Vanilla at New Look which would also be perfect for New Years Eve as well so I could kill two birds with one stone. Although, I have to think about how easy it would be to get gravy out of it - when there's loads of people round the table you never know what's going to happen! Then there's the dark green lace dress from Dorothy Perkins which is such a good colour for Christmas and can be accessorised with some gold jewellery. Finally, there's the flock skater dress from Topshop which is another one that would be great for New Years Eve.
Have you got a Christmas outfit sorted yet? What do you do on the big day?