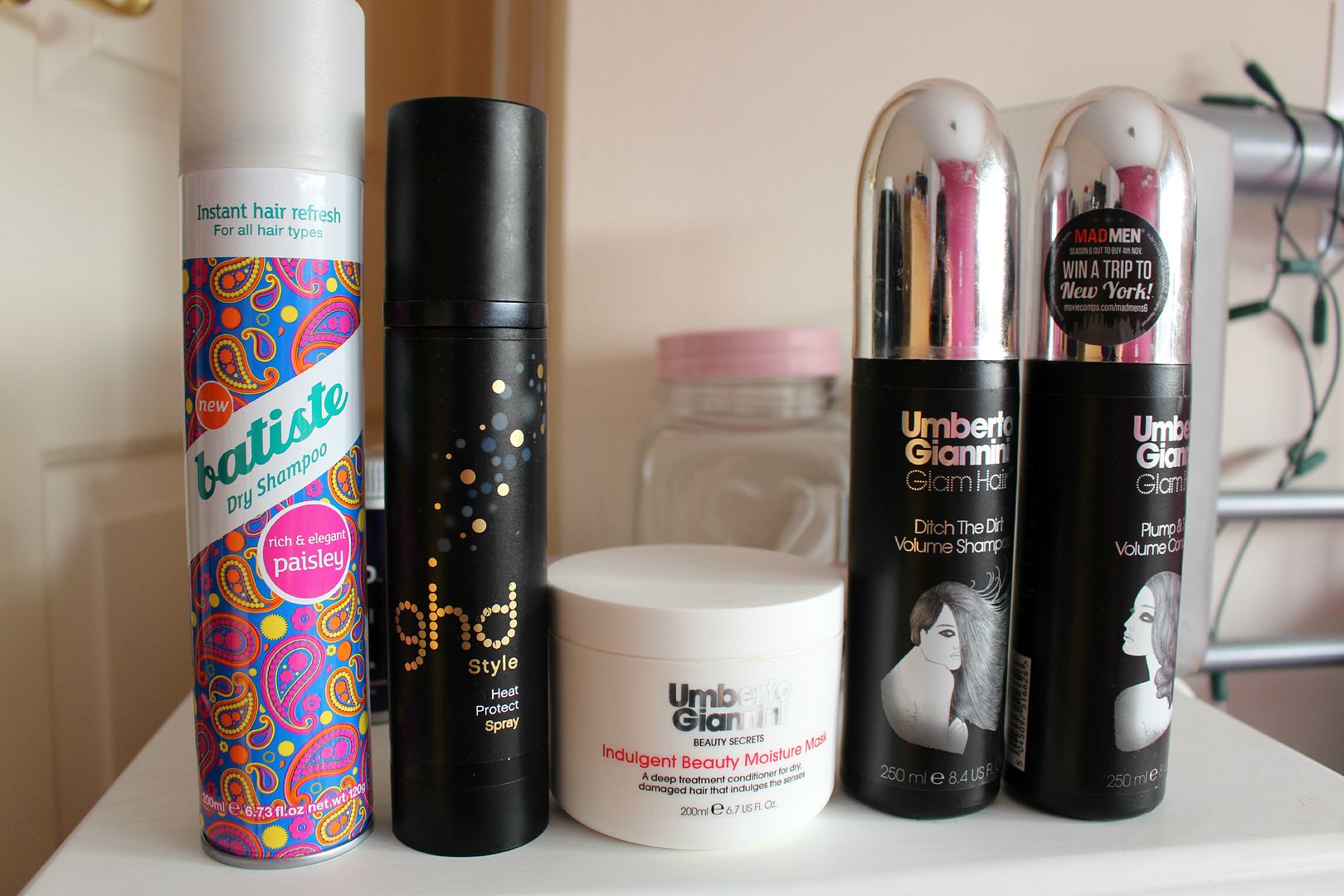 Batiste Dry Shampoo, available here
I think that dry shampoo is an essential for any girl. I hate having to wash my hair all the time and only do it once every three days, however having a fringe means that it needs a bit of a refresh on the third day. I've always used Batiste as they're the first brand of dry shampoo that I ever tried and I've found that they work the best as well as being at purse friendly prices. I'm not overly fussed on the scents, however I do like this Paisley one and love the scent of the version for red hair.
GHD Heat Protect Spray, available here
As I use a lot of heat on my hair when I style it, I need to use some form of heat protector. I don't want my hair to get damaged as it's short enough at the moment without having to cut off a load of split ends. I spray this in my hair when it's wet before I use my hair dryer and then again when I straighten it. I try not to straighten my hair a lot but this really helps to keep it from splitting and becoming dry from too much exposure to the heat. I also love the smell of this and wish it lingered.
I'm a big fan of Umberto Giannini products (and the salon!) so when I was looking for a nourishing hair mask, their shelf was the first one I went to in Boots. This mask is designed for dry, damaged hair that needs a burst of moisture. I use this once a week and apply all over my hair avoiding the roots and leave it to work it's magic for 5-10 minutes. When I've washed it off I can feel the effects immediately, my hair is so much easier to style and feels silky soft thanks to the shea butters.
Umberto Giannini Plump & Sexy Volume Shampoo and Conditioner, available here
Although I've marked these as a PR sample, they're actually the second lot I've had - I bought them myself the first time. The main reason why I love these is the scent - the whole range with black packaging smells the same, it's just a gorgeously glamorous scent (I'm no good at describing fragrances) which lingers in the hair for a couple of days after washing. There's also teeny tiny bits of glitter in the shampoo which makes using it a bit more exciting.