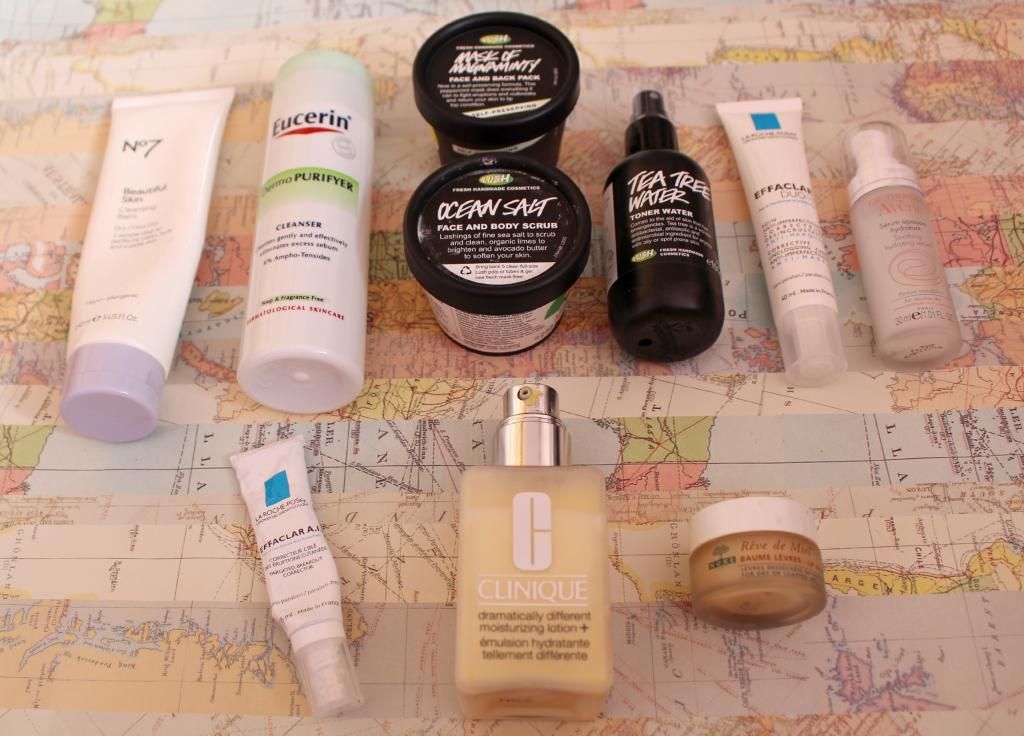 My skincare routine doesn't change very often although every now and then I'll find a new product to throw in there. At the moment my skin is pretty good apart from a few hormonal breakouts that pop up around that time of the month, so I thought I would share with you what I use to keep my skin looking and feeling great.
I always like to take my makeup off with some form of hot cloth cleanser. When I ran out of my last Superdrug one, I decided to have a look at No7 as I had one of those £5 off vouchers that they do every so often and found this one which is recommended for dry/very dry skin. I've found that I prefer this over the Superdrug one, it takes my make up off so easily and has a lovely but subtle scent to it. It doesn't say to take it off with a hot cloth but I've found that this works best for me.
When I've been wearing makeup, I always make sure to double cleanse just so I know that I've got all of the makeup and grime off my face. This cleanser from Eucerin is gentle and doesn't leave my skin feeling stripped like some others that I've tried.
I mentioned this mask in a recent Lush post, it's an old favourite and I've been using it for years. I like to use it a couple of times a week on my face and occasionally my back, just to draw out any nasties and keep spots at bay. It also helps to reduce redness if I've got any current breakouts and the peppermint in it is really refreshing. When I repurchased this a couple of weeks ago, I accidentally bought the Self-Preserving version which I don't like as much as the original but it still does a good job.
I received this pot of Ocean Salt at a blogger event back in March although I was planning on purchasing it while I was there anyway after using a sample. I like to use this exfoliator twice a week while I'm in the bath. It really helps to shift any dead skin cells that are clogging up my pores without being too abrasive and leaves my face feeling really smooth. I'm almost out of this so I'll be repurchasing as soon as payday rolls around.
This is another old favourite that I've been using for years. The tea tree water in this toner makes it really refreshing, I like to spray it on my face first thing in the morning to perk my skin up and I also use it after cleansing. It's especially good when I'm suffering from a breakout as it really soothes the skin and reduces redness. I've also found that it's great as a quick refresher during the day and you can spray it on over your makeup.
I apply this serum every night before my moisturiser and I find that it does exactly what it says on the bottle - it really soothes my skin and also helps to keep it hydrated. I was previously using hydraluron but I found that didn't live up to the hype whereas this serum is seriously underrated and does such a good job. It's the first thing that I've tried from Avene and I'll definitely be looking into purchasing some more of their products while I'm in France.
I bought this just after Christmas when my skin had a mini freak out and was so dry. I really didn't know what I was looking for and ended up buying the first moisturiser that I came across at the Clinique counter. Luckily for me, I didn't waste almost thirty quid and it actually helped my dry skin and has continued to keep my face moisturised since. As you can see, I've used about an eighth of the bottle since I bought it so it's definitely worth the higher price tag.