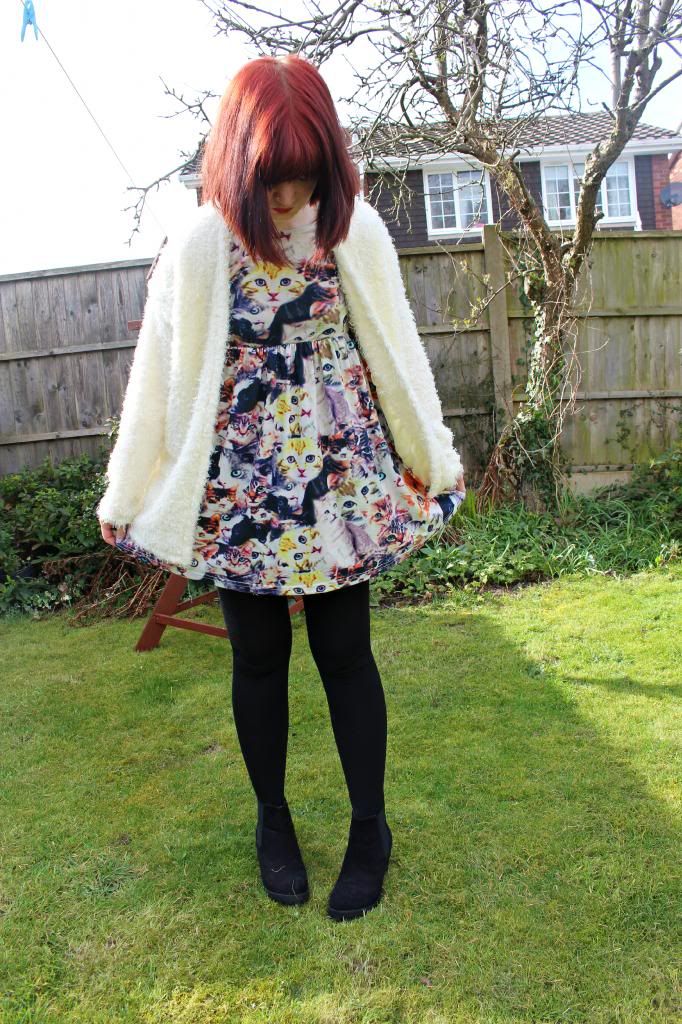 Recently, I've picked up quite a few new items of clothing and out of all of them, I think that this creepy looking cat dress from
Choies
is definitely my favourite. If you know me, then you'll also know that I'm a creepy cat lady. The first thing I do when visiting a website is search for 'cat' and as soon as I saw this dress I knew I had to have it. There's a similar one on ASOS but it's in a dog print, this one is obviously better. It's a bit short so I have to make sure I'm wearing thick tights or leggings underneath it. Maybe I could also get away with wearing a pair of shorts under it in the summer.
The cardigan is a great alternative to the fluffy black one that I got from Primark at the end of last year. I've worn it to death and it's currently in a charity bag so I was looking for something to replace it with. This one from
SheInside
is lined so hopefully it will last a lot longer than the black one. I got a size Small which is quite big on me but luckily I like the oversized look!
The boots were a Primark bargain and are a dupe for a pair in Topshop. They were only £15 so me,
Chloe
and
Alice
all snapped them up when we were shopping together in Birmigham. They have a heel but they're so comfortable and I can easily walk around in them all day.