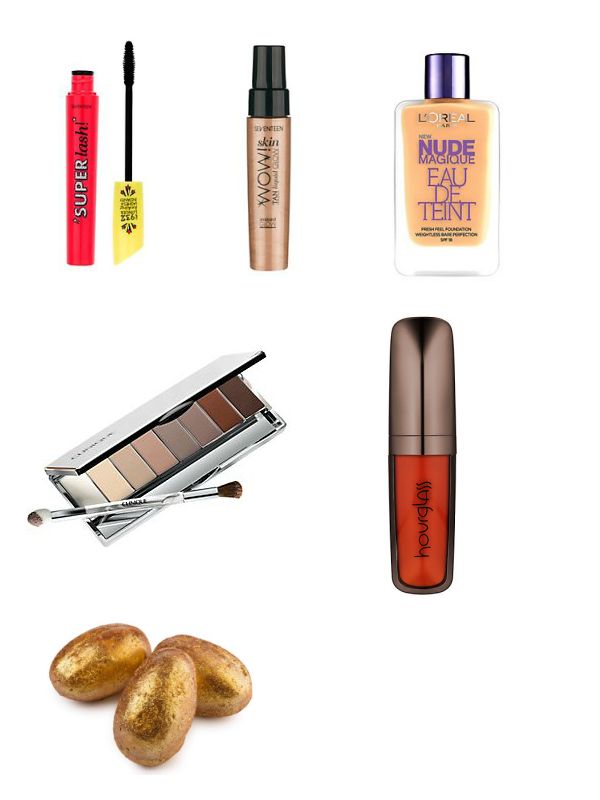 I don't NEED any more beauty products but the Boots 3 for 2 offer keeps luring me in. The mascara was recommended to me by
Chloe
and I really want to try it after all the good things I've heard about it, plus I've been using a Seventeen mascara recently that's been brilliant.
The Skin Wow highlighter is something that I swatched the other day in store - I have the original pearly pink version and at first I thought that the tan one would be too dark for my pale skin but when it's blended it looks great. I think it would be perfect for when I start getting the fake tan out again.
I'm also on the look out for a new light coverage foundation and from what I've read online, this L'Oreal one seems like it might be the one. I hate wearing heavy foundations when it's warm so I think I'll be trying this one out.
For a while, I've been lusting after the Naked Basics palette, however the two lightest shades don't show up on my skin. I discovered this one from Clinique after watching one of
Amelia Liana'
s videos and I can't wait to get to a store and swatch it now. I also have enough Boots points for it, wahey!
I've wanted to buy this liquid lipstick for months and I've come dangerously close on many occasions but I've always refrained because it's tiny. Next time I see one, I'm not going to be able to help myself. It's such a goregous orange toned red and the staying power is ridiculous!
Finally, the Easter collection at Lush is as fantastic as usual. This ballistic smells like the famous soap Honey I Washed The Kids and is also very glittery. I can't help but want it!