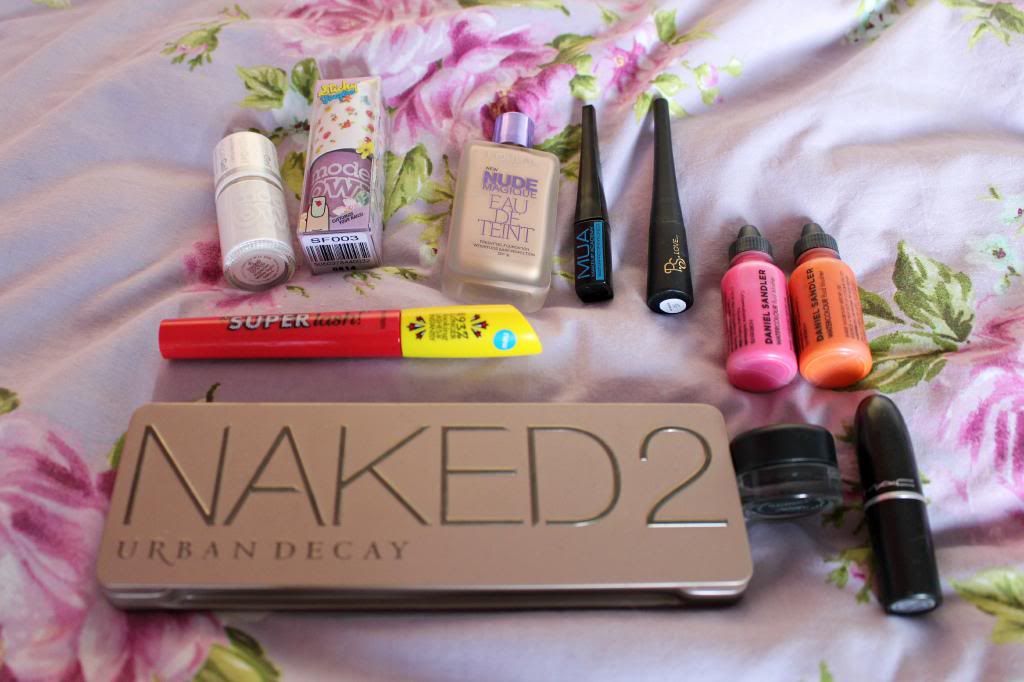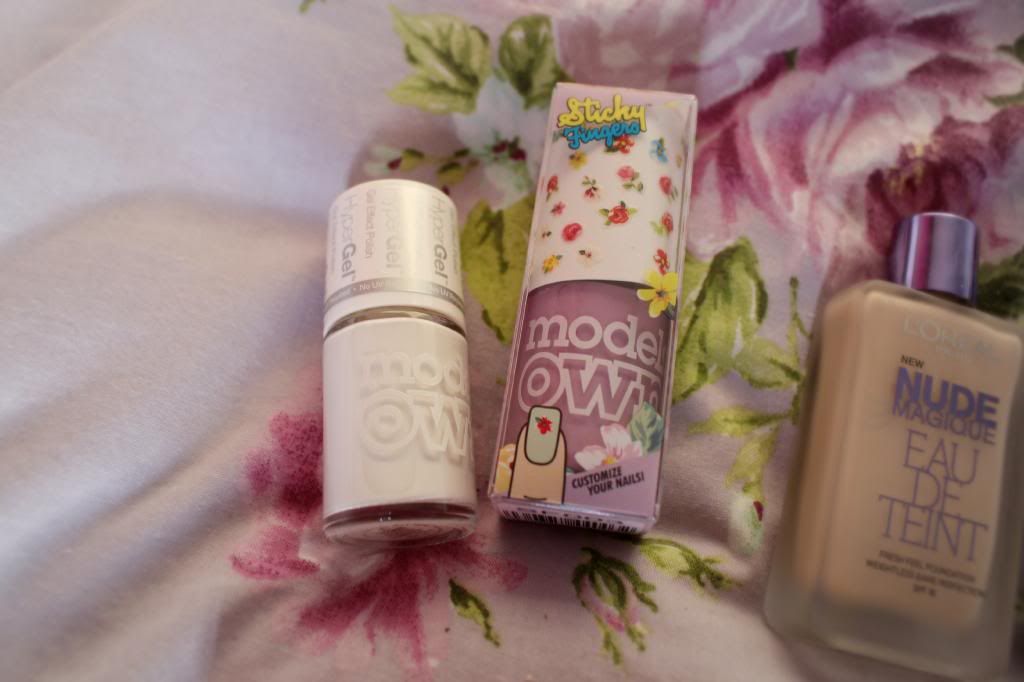 Last week I posted a little beauty wishlist which you may have read. If you did, you will notice that I ended up buying most of the products that are on there. I was in Boots and realised that the 3 for 2 was ending that same day so I had a bit of a splurge.
Models Own Hyper Gel in White Light– All of the Models Own polishes are currently on offer at two for £8 in Boots and I was desperate to try one of the new Hyper Gels. I went for white as it's a colour I don't already have. I've already used this and it's opaque in two coats but takes forever to dry which is a bit of a pain.
Models Own Sticky Fingers in Pastel Petals – I picked this up for the colour of the polish rather than the stickers but I do love the florals. I found that they don't really stick well on top of dry polish so next time I might try putting a top coat on first and then applying the stickers when it's still slightly tacky.
L'Oreal Nude Magique Eau de Teint foundation – I bought this as I was after a light coverage foundation now that my skin is pretty good. I only really get spots at that time of the month so this is great for just evening out my skin tone and adding a tiny bit of coverage. I always need to put some concealer on the dark circle under my eyes and a bit on any blemishes I've got but so far I'm really impressed with this.
MUA Waterproof liquid eyeliner – I love the brush on this but I've found that it does rub off really easily – not bad for £1 though!
PS. Love liquid eyeliner – This is from Primark's new beauty line which I'd heard a lot about from YouTube. I haven't tried anything else from the range but I think that this is amazing for the price (just £1!) and it stays put all day.
Daniel Sandler Watercolour Blushes in Acid and Trip – I actually won these on Twitter which I was really pleased about as I've wanted to try the Watercolour Blushes for ages. Acid is a neon pink and Trip is a neon orange. I really like Acid, it's great for a flush of colour and it can be used sparingly for a lighter colour. Trip isn't my colour at all and would be much better for someone with a darker skin tone.
Seventeen Super Lash mascara – I'd heard good things about this mascara as it has little fibres in which stick to your eyelashes, so I decided to try it. My eyelashes are really short and stumpy so I'll try anything especially when it claims to increase lash length by 93%. I didn't look at the colour I was getting and ended up with brown/black which isn't a problem as I can't really see a difference. I love how long this makes my lashes look but I've found that it does make my eyes sting a bit.
Urban Decay Naked 2 palette – I actually wanted to get this before Christmas, however I opted for the Naked 3 instead which I've used almost everyday since. I went into Debenhams in Leciester last week to pick up the Clinique All About Eyes palette but when I swatched it I decided to pay the extra fiver and get this instead. I haven't had a chance to really play around with it yet but so far I love the colours.
MAC Fluidline in Black Track – I got this when I was in Nottingham with Sophie at the #Nottssbloggermeet, it was a bit of a spur of the moment purchase as my Collection gel eyeliner was drying out. I've only used it a couple of times but I've found that it's smudged and transferred after a while, which is a bit of a pain.
MAC lipstick in Heroine – I'd been waiting for this to be rereleased for months so as soon as I heard that Selfridges had it in, I went over and snatched on up. It's such a gorgeous matte purple colour and I've been wearing it a lot since I got it. I'm so glad it's back for good as I can see myself using this up quite quickly.
Phew! No more shopping for a while now.