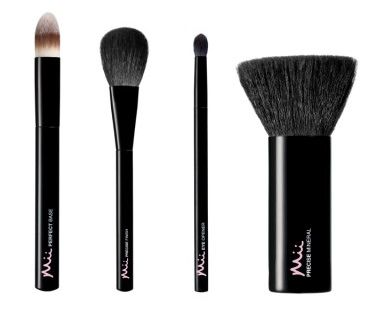 An important part of anyone's makeup routine is having the right brushes. If you want to do a job properly then you need the right tools and this means having
high quality makeup brushes
. You don't need to spend a fortune, but I do believe that you need four or five decent brushes to create a flawless finish. For me, the most important brushes are:
Foundation brush
Powder brush
Blush brush
Eyeshadow brush
Eyebrow brush
Luckily, I've recently discovered the
professional makeup range from Mii
, which is not only affordable but is also of a very high quality. They have a great range of brushes including
fabulous foundation brushes
so you can get a makeup brush starter kit for around £100 which is a complete bargain and you know that they'll last you a long time. There's absolutely no point in wasting your money on cheaper alternatives when they're just going to shed hairs over your face and you're going to have to buy more brushes anyway.
What makeup brushes do you use? Have you ever tried any from Mii?
Sponsored Post