3.1 Phillip Lim is a brand that I have always lusted after, ever since I found out about them a few years ago. The label has been around since 2005 and is famed for its classic styling without any branding or logos. Although I love almost anything from the label, the two things I find myself dreaming about most often are the gorgeous bags, particularly the satchels and the shoes that they have to offer. I thought I'd put together a selection of
my favourite 3.1 Phillip Lim items
to show you.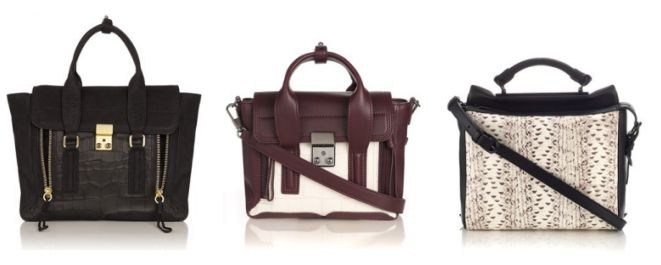 The first bag that I want to share with you is the
Black Croc Pashli Satchel
. If you know me, you'll know I love big bags and this one is perfect! It has a handle and a shoulder strap so you can also hold it in the crook of your arm as well as carry it over your shoulder. The black croc is such a classic design and will never age, it will go with any outfit and is great for any occasion.
The second bag is the
Burgundy Mini Pashli Satchel
which is a smaller version of the first one and comes in this gorgeous burgundy and white, which is absolutely perfect for autumn. This smaller bag would be perfect for work or as an everyday handbag.
The third bag is the
Black Python Ryder Shoulder Bag
which is not to my usual taste but I couldn't help but fall in love with this. I think the colours are gorgeous for this season and I love the shape of it. It also looks like I'd be able to fit a lot in it, which is fantastic!

The first pair of shoes I want to share with you are these gorgeous
45mm Black Leather Alexa Boots
. They're such a classic design and will last years and years as they will never go out of fashion and they're also such amazing quality. They will go with any outfit and are smart enough for work too.
After boots, loafers are my favourite type of shoes and these
40mm Rose Gold Quinn Loafers
are just perfect. Loafers are so stylish and comfortable and what more can you want than stylish, comfortable, rose gold loafers?
The final pair of shoes are the
100mm Black Leather Vincent Mules
, which are such a unique design. They'd look great with a midi skirt and a jacket for work or with a pair of cuffed skinny jeans. They're more of a summer shoe but they'd still work now while the weather is still quite warm.
All of these items can be found on the Avenue 32 website, along with a lot of other gorgeous collections from different labels. Now I just need to win the lottery so I can buy them all!
Sponsored Post