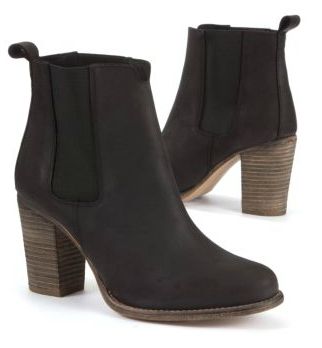 When it comes to footwear, not everyone gets excited about the notion of boots. You might think boots are reserved for those who want to vamp up their look with knee highs or just need a practical solution for countryside ambles. Boots are huge this season however, and with so many different designs to choose from there are many glamorous boot options on the high street which will suit the occasion and budget you have in mind. Particularly popular at the moment are Chelsea boots! Here's a look at why they're a great buy this season:
A practical alternative to heels
Who doesn't love a good pair of heels? They're glam, flattering and the ultimate symbol of female power. Yet, they're not always a practical choice, particularly come autumn-winter when they just won't cut it for everyday wear – puddles and stilettos don't mix. Heeled ankle boots will give you that added height with more stability than your ordinary high heels, and Chelsea boots are surely the most attractive low-mid heeled shoes currently on trend. These historic designs, which were originally invented in the Victorian times, ooze casual sophistication but are made with practicality in mind. The elastic gusset makes them easy to slip on and off, and with leather the most popular finish of choice, they're durable too.
They'll keep your toes warm and snug in cold weather
Along with durability, Chelsea boots bring warmth and comfort ideal for the colder months. Leather boots are great at keeping your feet snug and with the high ankle fit you can tuck in your jeans or team with thick woollen tights to add to the cosy feel. Suede is the second finish of choice when it comes to the
high street Chelsea boot designs
of the moment. If you thought the slipperesque style of Uggs was the only way to ensure warm and comfortable toes, think again. They really are a nice purchase for autumn-winter, yet won't look out of place if you do want to wear them in warmer months, as they provide an edgy twist when worn with feminine miniskirts or maxi dresses.
A boot for all occasions
Chelsea boots have been a fashion favourite for decades, so the fact they're back 'on-trend' in a big way is no surprise. They were huge in the 1960s, so can give that glamorous and vintage feel to any outfit. Plus, if you pick your pair right, they're ideal for day and night, business and leisure! Opt for a mid-heel classic black Chelsea boot which can be worn in the office, for days out and nights on the town. If making a statement is important, animal print Chelsea boots might get you excited whilst cut-out designs are also a quirky option this season. When high heels are appropriate, or you just don't go in for them anyway, Chelsea boots are a sophisticated choice which aren't too girly. In fact, Chelsea boots are a big male footwear trend this season too!