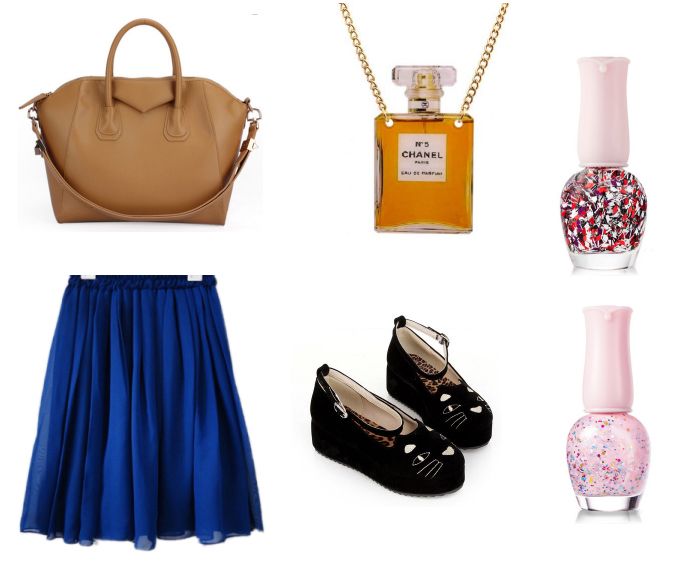 It's been a while since I last did one of these eBay posts and I've had a couple of emails asking when I was next going to do one and I've just hit 1000 followers, so here you go!
As it's (almost, maybe) summer soon I've been looking for a tan bag to replace the black one that I use all the time. I try to not wear a lot of black during the warmer months. This bag that I found is a lot like the Givenchy one that I've been lusting after but would never be able to afford but is a complete bargain at less than £30.
This Chanel perfume bottle necklace is really unique and I can imagine it looking great with a plain outfit, such as a little black dress and platforms for a night out or even denim shorts and a crop top. It's not something I'd usually choose but for some reason I was drawn to it!
The nail polishes are from a Korean brand and I know that
Terri
is a big fan. They're a lot cheaper than the ones you can get on the high street here and there's so many different variations too. It was hard to choose just two to feature on my wishlist!
The hot weather that we've been having in England has made me want to buy a few skirts and this chiffon one comes in many different colours and is only 99p! What a bargain, I think I'm going to get a couple and pair them with white tshirts, crop tops and my denim jacket. My favourite is the royal blue and the burgundy.
No wishlist of mine would be complete without some sort of cat related item. I first saw these flatforms on
Michelle
and I fell in love so I had to hunt them down. I'm really tempted by them but is it really appropriate for someone who's almost 24 to be wearing cat shoes? I think that with the right outfit they could look great.