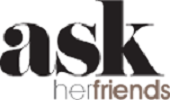 Christmas is just around the corner and while us girls are worrying about what to wear to the office Christmas party, the guys have an even more worrying dilemma.. What should they buy for the girl who has everything? Guys, don't worry!
AskHerFriends.com
is here to save the day! No more worrying about what to get, whether she's already got it or even worse, if she will even like it. Whether it's for your girlfriend, wife, mum, sister, cousin or even friend..
AskHerFriends.com
is here to help you!
Girls, are you sick of getting disappointing gifts from that special guy in your life? Is he just not taking the hint even though you've sneakily left magazine's open to the Mulberry adverts and left the Louboutin's website open on his laptop?
AskHerFriends.com
is here to help you as well. Using the help of social media,
AskHerFriends.com
gets all of your friends together and takes their advice to ensure that you get the present you're really dreaming of. With this fantastic new website, you need never have another unwanted gift ever again.
All your guy needs to do, is pick a selection of gifts from the choices and send the list to all of your friends via a social media platform such as Facebook. Your friends can then advise him on which is the best one to buy for you. So there's no excuse for a rubbish Christmas present this year, and if he still fails.. well, you'll have to decide how you punish him!
"AskHerFriends is the creation of founder Ben Blomerley, who once bought an ex-girlfriend a worm farm, set up the site after one too many present faux-pas. At a complete loss of what to buy, he says: "I started asking my girlfriend's mum and friends for their advice and they were really helpful. Then speaking to my mates, I came to realise that I wasn't the only one getting it wrong in the gifting department." An AskHerFriends app and sister site, AskHisFriends are also in construction."