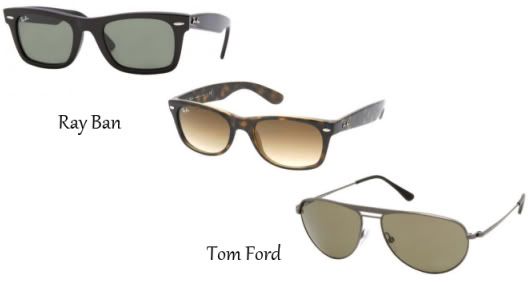 While we're having the last few days of summer sun here in the UK, I've been reaching for my sunglasses a lot and I have found it's time to buy some new ones after just two years of wear!
When buying sunglasses, you want a pair that's going to last more then just one summer, a pair that aren't going to break at the first knock that they receive and a pair that won't melt in the heat of the sun when you're abroad (yes, that can happen!). It's always worth spending a few extra pounds on a classic pair of sunglasses that you can wear year after year without worrying that they will go out of fashion. I've picked out a few of my favourite styles from a selection of Tom Ford sunglasses and also from a selection of Ray Ban glasses, which I think will look fantastic for years to come.
A classic black frame like these Ray Ban glasses, looks good with every outfit and can make such a statement, from the beach, to shopping or for an a la carte meal during the evening. If you want to go for something a bit less bold then why not try these half frame, tortoiseshell Ray Ban glasses. They're such a great investment piece and you can guarantee that the won't go out of fashion! Another favourite of mine is the classic aviator style like these Tom Ford sunglasses. They look great on both men and women and are perfect for finishing off any outfit.