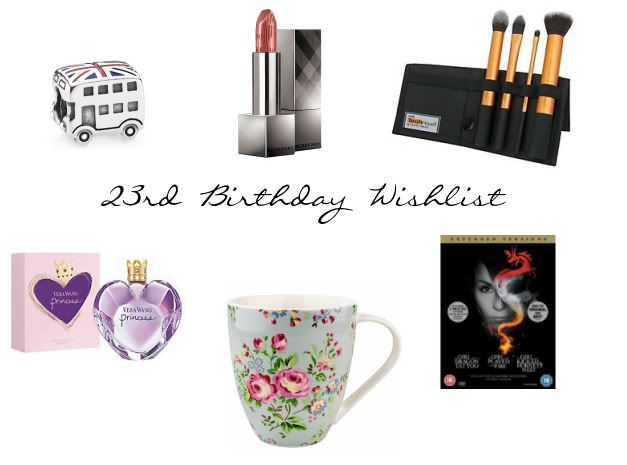 My birthday is coming up (5th October - mark your calendars!) so I thought I'd show you what is on my birthday wishlist. There was only two items on there (the charm and the lipstick) but my boyfriend was asking what I wanted and when I told him he said "two items is not a list" so I've racked my brain and found more things that I would like.
The Pandora charm, perfume and the lipstick are things that I've been wanting for aaaages but they're not the kind of things that I would just treat myself to, however I've managed to save up enough Boots points for the perfume so if I don't get it for my birthday I'll just treat myself to it anyway.
I want to try the rest of the Real Techniques brushes after using the stippling brush and the blush brush for a while now. I've been really impressed with their quality!
I love the Cath Kidston mug, it's such a pretty floral design and I want to start up a collection for when I eventually move out again, I only have one at the moment.
After finishing the Millennium trilogy, I now want to watch all of the Swedish films. The books were amazing and I think they were even better than my beloved Harry Potter! It's such a shame that Stieg Larsson died without completing the rest of the series (there were meant to be ten) but at least I have all the films left to watch!
So, there you go Mark.. stop complaining that I'm hard to buy for!