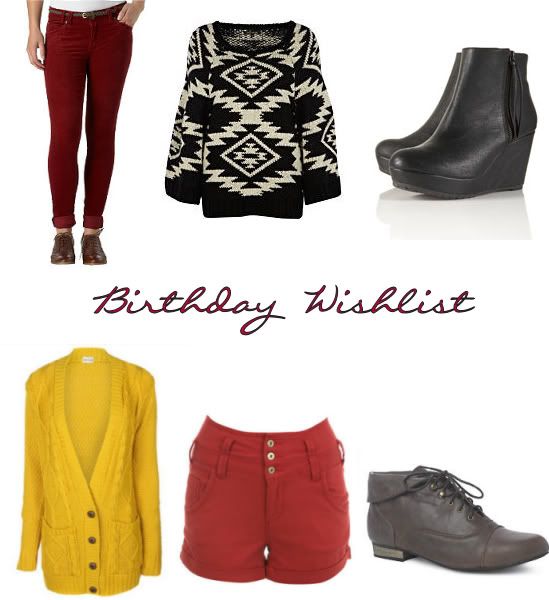 It's my birthday in ten days time! I have a countdown on my desktop, I'm so excited! Here's a few things I've spotted while I've been window shopping on the internet over the past few days. It's really starting to feel like autumn now; it's getting colder every day, the leaves are changing colour and we're slowly getting our winter stock in at work. I'm loving chunky knits, dark red and cords at the moment and I love the look of these boots. I'm going to take a trip to Southampton this week and I might buy a couple of these items if I see them. I'm getting a camera off my parents, which will be brilliant. I haven't had my own camera since March when my DSLR broke! I'm excited but I also don't want to be 22. That's so old!
Uni starts again tomorrow, I can't wait. I'm so exhausted after working so much during the summer. I've worked 7 days in a row so far and still have two more to go. Tomorrow, I'm working 9 - 5:30, then have a lecture at 6 until 8. I'm going to be so tired but I need the money. I'm only in uni for 6 hours a week this semester. It hardly seems worth the £3k a year!
I hope everyone who's just moved to uni is settling in alright. I can't believe this is my last year!