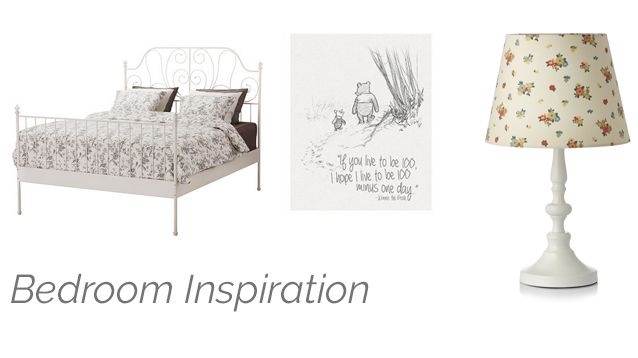 Even though I don't have my own house yet and I'm pretty far off owning one, it doesn't mean that I'm not completely obsessed with planning my dream home. At the moment, I've been pinning away like mad on Pinterest, just getting inspiration from other people and creating a board of some amazing ideas.
I try to make my room at my parent's house as personalised and as 'me' as I can. I didn't have a say on the colour of the walls or carpet but apart from that, I've chosen everything else in the room. Top of my wishlist right now though is a new bed, mine is so old - I took it from my last house at uni and I have no idea how many other people have used it before me. It squeaks when I turn over in it and it's pretty unstable. I've picked this pretty white one from IKEA and I'm hoping someone will give me a lift over there soon so I can pick it up. I'd also love a memory foam mattress to go with it, especially after staying in Amy's bed last week which was so comfy.
I love to have a lot of light in my room and choose to do this with lamps and candles although my window lets in a lot of natural light in the afternoon. Ideally, I would love to have sun tunnels from VELUX in my ceiling which would bring in so much more natural light and would also save on having to use a lamp in the morning. My favourite candles at the moment are from Flamingo Candles and they smell absolutely amazing!
On my walls I have lots of different things from shelves, to photos, to framed prints. I would love some more prints, especially of my favourite quotes and I've found that you can get a lot of these on Etsy which are fantastic value. Some of them you can even print at home! The frames I use are just over £1 from Wilkos so it's a great way to decorate your room on the cheap. Mirrors are also a great way to make a room look bigger and lighter.
Now I just have to start saving up for my own home!