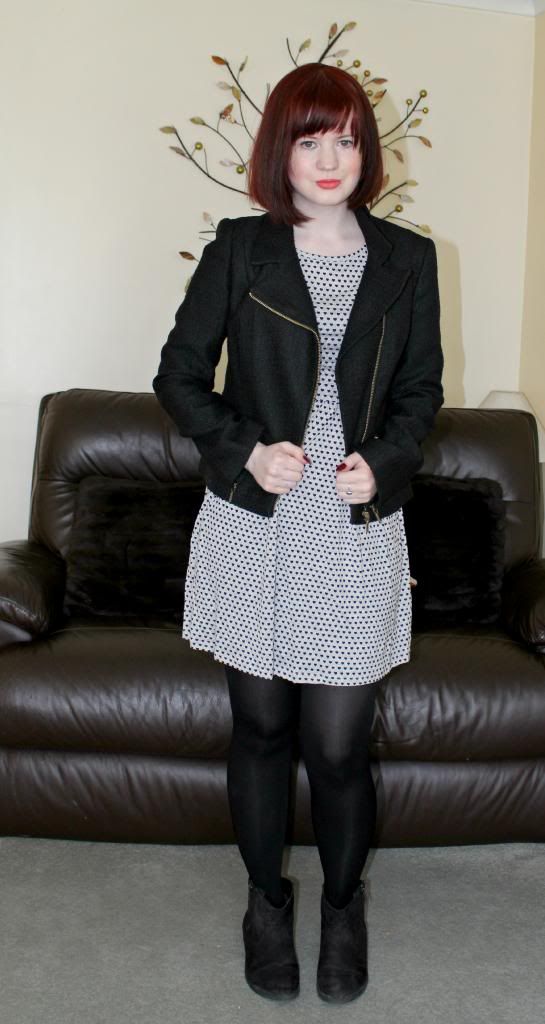 I was recently contacted by the people at
Debt Free Direct
and asked if I wanted to take part in a challenge in which I had to create an outfit using only clothes bought at a supermarket. Anyone who knows me will know that I'm all about saving money in any way I can, so this challenge was right up my street.
I love how easy it is to pick up a new outfit along with your toilet roll and bagels nowadays. My two favourite supermarkets are Tesco and Asda and that's not just because of the cheap food, I think their clothes ranges are amazing too. I had a browse online and decided to go for Tesco as it's closer to me so therefore easier to get to to pick up an order.
I think that Tesco have a fantastic range of womenswear in at the moment and it was such a struggle for me to pick just one outfit. In the end, I chose this heart print jersey dress which I love because it's really comfortable and can be dressed both up or down. I also went for this amazing jacket which looks like it cost a lot more than it actually did (£28, but it's now down to £14!) and I will definitely be wearing this a lot in the spring. It's also a good, smart jacket for job interviews. The boots are just your basic, black ankle boots with a small heel and a zip on the outside but I think that they really finish off the outfit and they will also go with anything.
This is the first time I've done an outfit post using my tripod and new camera. I'm still getting used to the self timer, hence the daft blurry photo. I thought it showed off my lipstick nicely though which is one of the Revlon Matte Balms in Audacious.