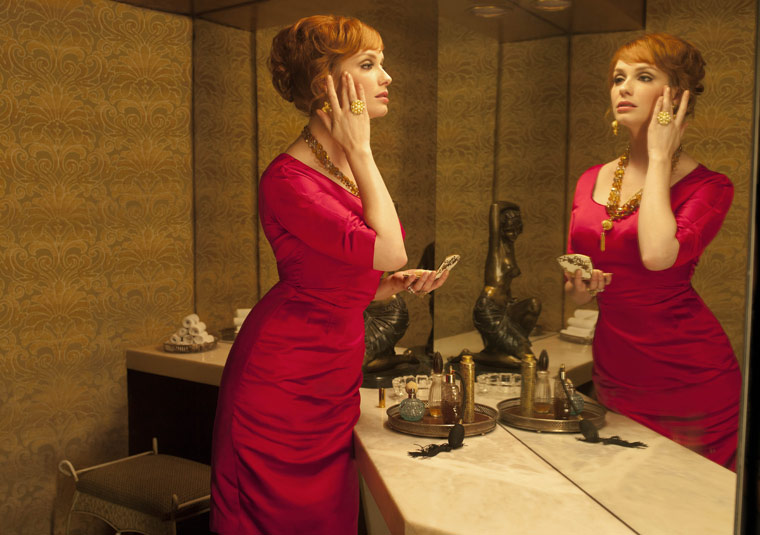 Feisty, fierce and oh so fashionable, we've spent years coveting the wardrobes of our favourite TV characters from the comfort of our sofas. Standby and behold the small screen looks we'd love to steal.
Played by Christina Hendricks,
Mad Men
's sultry secretary Joan Harris comes top of the list, with an enviable wardrobe and fabulous figure to boot. Joan's sixties style is sensational for the office, with a retro range of stunning bodycon dresses, sleek pencil skirts and curve-loving twin sets, all accessorised with print neck scarves, statement necklaces and her signature pin-up hairdo. Steal her style with our range of
gorgeous new plus size dresses
.
Carrie Bradshaw,
Sex and the City
The ultimate TV style icon had a wardrobe as wild and eclectic as her relationships, and a shoe collection to rival Imelda Marcos. How we miss her quirky mix of designer and vintage fashion, from her princess prom dresses and oversized fur to the iconic looks we all remember - the Carrie necklace, the flower 'mega brooch' and of course the Manolos. Carrie we salute you!
Gabrielle Solis,
Desperate Housewives
Gorgeous Eve Longoria cast off the image of the dowdy housewife as glamorous Gabrielle Solis in the hit US show. At a petite five foot two, Eva is the perfect example of how to dress for smaller frames, with an enviable wardrobe of pretty, figure-hugging dresses in stunning styles and bright colours.
Sarah Lund makes our list for her wonderful winter wardrobe of cosy knits, oversized jumpers and Fair Isle prints-a-plenty. We love everything about the straight-talking Danish DI and her wardrobe is no exception. Sarah shows us all how you can rock non-traditional working wear and still show you mean business.
Margo Leadbetter,
The Good Life
She was the snobbish yet good-hearted neighbour in the '70s BBC show
The Good Life
whose memorable wardrobe featured now-vintage goodies like graphic print maxi-dresses and glorious trouser suits with matching head scarves. Her down-to-earth counterpart Barbara Good, played by Felicity Kendal, does of course deserve a sartorial salute - her trendy dungarees and rolled up shirt sleeves were the epitome of effortless cool.