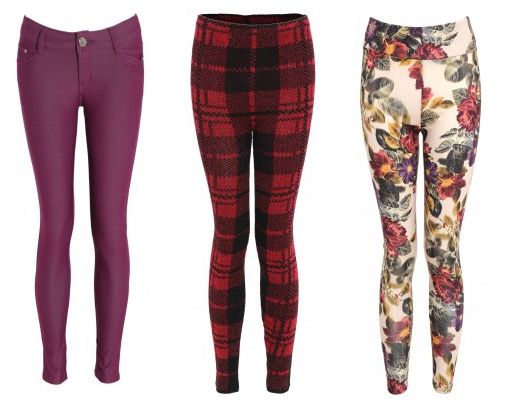 When it starts getting colder, you want to keep warm but still look stylish but it's hard when you're layered up and wearing a huge coat! The best way to look stylish during the colder months is by dressing up your bottom half as that's the part that will be on show. It's too cold for skirts and dresses, so jeans and leggings are the way to go. I've found a
great selection of Womens Jeggings from MaryJane fashion
and they start at just £7.99! How gorgeous are the plum pair? They add a great pop of colour to your outfit and they'd look fantastic with a pair of black ankle boots, they're the perfect colour for this season. They look like jeans but are made of a much softer material so you'll still be comfortable and stylish at the same time. More importantly, you'll be kept warm.
If you're feeling more adventurous,
printed leggings are great for winter
. I really love the tartan and the floral pairs. They'd look amazing with a plain tshirt and a black cardigan with some ankle boots, they're a real statement piece. They're also a great alternative to tights and you could wear them under a plain black dress.
What do you think of jeggings and printed leggings? Will you be wearing them this season?