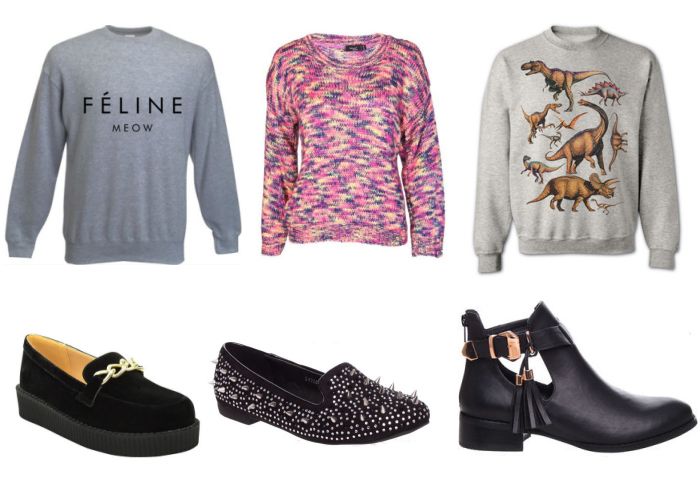 The temperature has suddenly dropped here in England - it's now bloody freezing and it's only going to get worse, so I've been looking at sweatshirts and jumpers a lot this week. There's nothing like wrapping up warm, wearing a load of cosy layers and a good pair of boots and going out for a nice walk on an autumn evening.
I was lusting after the tshirt version of this
Feline Meow sweatshirt
a while back but I think I much prefer the sweatshirt, especially in this weather!
This
rainbow jumper
would look so cute with a collar poking out and a pair of skinny jeans. It would go with any outfit and it definitely looks snuggly and warm!
I think I'm definitely going to be ordering the
dinosaur sweatshirt
, it's so cuter and a lot cheaper than the ones that Topshop were doing a couple of years ago. You can always trust eBay to produce some bargain alternatives to the high street!
The three pairs of shoes that I found will finish off any autumn outfit perfectly. I love the tassel detailing on the
chelsea boots
, I haven't seen any like this in the shops and the
spiked and studded slippers
are great to toughen up an outfit. The
loafer style creepers
would be great with both skinny jeans and dresses too.