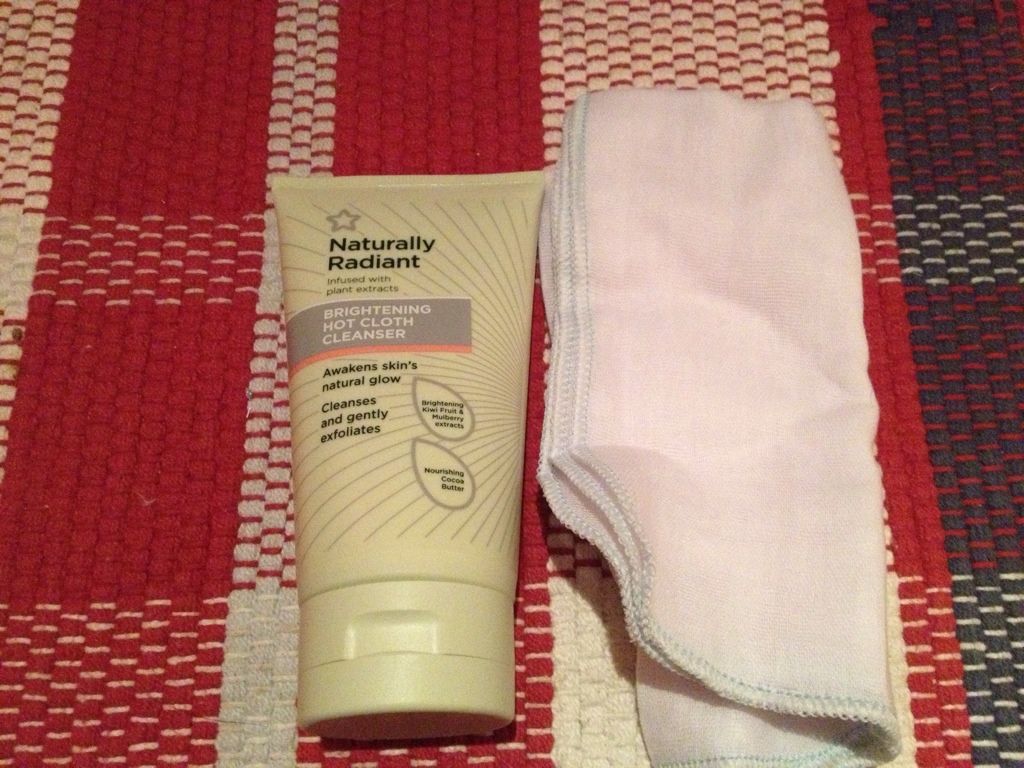 "

Superdrug Naturally Radiant Brightening Hot Cloth Cleanser is formulated with a unique energising complex and infused with Kiwi Fruit and Mulberry extracts to help revive skin's radiance and even out skin tone.
Enriched with nourishing Cocoa Butter, this rich and creamy formulation melts into the skin and cleanses away make-up and impurities, whilst also providing gentle exfoliation, leaving skin feeling renewed, soft and ultra clean."
I've heard such a lot about hot cloth cleansers over the past year or so and so I was desperate to try one out for myself. Years ago, I had a free sample of the Liz Earle one which I never actually used before losing it when I moved away for uni. While it may be fantastic, Liz Earle is pricey and not very easily available. I knew that there are now a lot of cheaper alternatives on the high street, so a couple of weeks ago I had a look in Superdrug and came across the Naturally Radiant Brightening Hot Cloth Cleanser. I'd never actually heard of this and was intending to buy the Vitamin E one, however as it's a new product it was on a half price offer at £2.99 so I went for the cheaper option. In the box, you get the tube of cleanser and one muslin cloth. However, if you want to buy any more muslin cloths, you can get them really cheap from this seller on ebay.
I apply this cream straight over my make up onto a dry face. I then rub it in for a minute or so (and this is where my eye make up smudges all over my face - attractive!) before wiping it away with the wet muslin cloth. I've been trialling it for two weeks so far and I am very very impressed! It gets rid of every last trace of my make up and isn't drying at all. Most cleansers leave my skin feeling quite tight but I can get away without using a moisturiser after this cleanser. I always use it to get rid of my make up and then I will sometimes 'double cleanse' and use another cleanser immediately afterwards if I feel that my skin needs it.
Since I started using this cleanser, my skin has felt a lot smoother (which is probably due to the muslin cloth) and I haven't suffered any breakouts which have been a regular occurrence for me recently. I love how easy it is to take off my make up. Even if I'm knackered after a long day at work, it only takes a couple of minutes to get rid of it all. If you're in the market for a hot cloth cleanser, I definitely recommend this one!