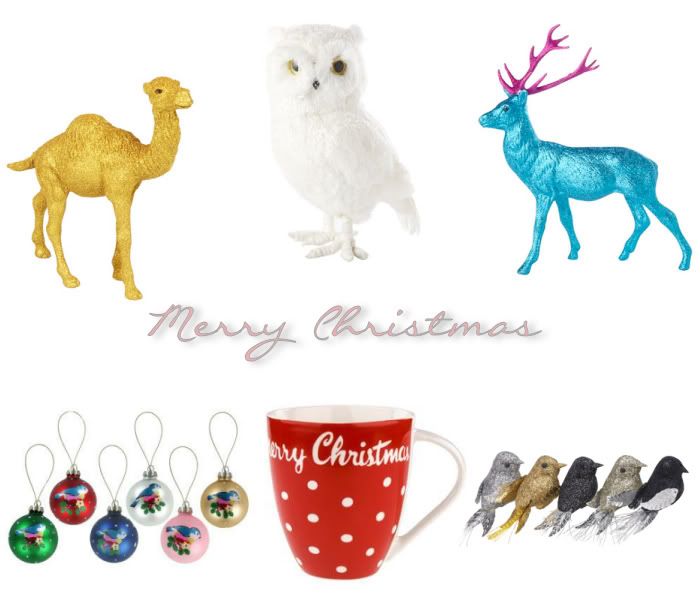 I love Christmas and I love what can only be described as 'tat'.. so what could be better than Christmas tat? Okay, I'll admit it is a little bit too early to be thinking about Christmas decorations but last night I got out my tiny black tree and decorated it with pink tinsel while listening to Disney versions of Christmas carols. Sad I know, but I'm not allowed to put up any decorations anywhere in the house until December 1st.
I love these glittery figurines from
Paperchase
and last year I managed to pick up a pink stag for only £1 and at the same time I got my teeny tree for £1 as well. I think they don't look especially Christmassy so I'd happily keep them up all year round. My pink stag is currently living on our bookcase in the hall but I think he needs a teal companion. Everyone knows I love owls and birds and to be honest, I just think camels are hilarious.. especially when they're gold!
The baubles from
Cath Kidston
are a little out of my price range but they're gorgeous! The mug is much more affordable though and I'll definitely be picking one of these up to have my coffee in while opening my presents on Christmas morning.
Now I've picked out all my decorations I just need to decide what presents I want as my mom has asked me a couple of times. I honestly don't want anything. All I wanted this year was a camera, which I had for my birthday and an iPhone 4s which I bought myself last week. All I want is a good day with my family and lots of great food.
When do you start putting up the decorations? What are you asking for from Father Christmas?