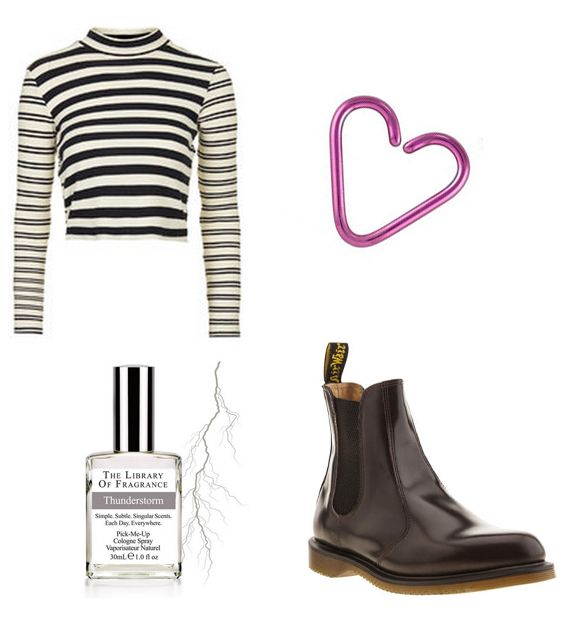 Striped long sleeve ribbed top - Heart daith jewellery - Library of Fragrance Thunderstorm - Dr Marten Chelsea Boots
The weather is so rubbish at the moment that I just can't bring myself to traipse around the shops. Even though I can't afford to go shopping until payday, I've been eyeing up loads of things and counting down the days (15 to go!) until I can get my hands on them.
First up, I absolutely love this long sleeved stripey top. It's cropped, so I'd have to wear it with something high waisted to avoid exposing my spare tyre. It looks great for layering and would be especially good in this snow!
I had my daith pierced when I was down in Winchester in November and I'm just itching to change the jewellery in it. I love this heart jewellery, I think daith hearts look really nice and they're a bargain from FreshTrends as well. I don't think my daith is quite ready for the switch just yet, but I'm going to order one anyway.
I love the unusual scents that Library of Fragrance have on offer. Unfortunately, these aren't in my local Boots but I did get to have a sniff of them when I was in Berwick visiting Amy. I have a list as long as my arm of the ones I want to try - there's even more on the website than there is in store! Thunderstorm smells amazing but I'm also really intrigued by Playdoh and Paperbacks.
Finally, everyone knows I can't resist a pair of Dr Martens and I've had my eye on these Chelsea boots for ages. I just can't decide whether to buy them or not - I already have five pairs of DMs. It's a hard choice!
There's also a few more things I fancy but haven't chosen yet, like new bedsheets and a rug for my bedroom and I'm also on the look out for a rose gold watch.