I don't know if you already know this about me but I'm a huge bookworm. Ever since I started reading when I was just three and a half, I've been obsessed with books. I even worked in a bookshop for most of last year which was like a dream come true. I don't think I've ever mention books on my blog before so I thought it was time to start sharing what I've been reading.
Most of the books that I read are on my kindle or using the kindle app on my iPad/iPhone. I love how I can buy a book off the Amazon Kindle Store and have it delivered to my devices within seconds. There's no waiting around for the post, I can just jump straight in to my next book.
In 2013, I signed up to a fantastic site called Goodreads which lets you record the books you've read and write reviews on them and share them with your friends. There's also part of the site which lets you take part in an annual reading challenge and you can decide just how many books you'd like to read. In 2014, I chose 40 books which was quite adventurous as I only read 26 the year before. Luckily, I managed to complete the challenge and read 40 books. I'm not going to talk about all of the books I read as I'll be here forever and I didn't enjoy all of them, but I am going to let you know about a few of my favourites.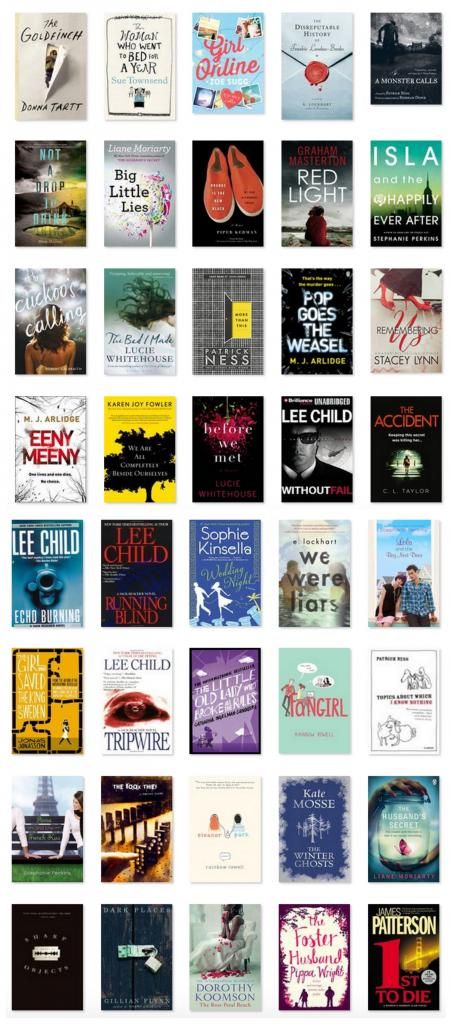 The Cuckoo's Calling by Robert Galbraith
Everyone now knows that this is written by J K Rowling which is what spurred me on to buy it. A lot of people compare this to the Harry Potter series but they're two completely different things. The Cuckoo's Calling is a crime fiction novel based in London and was one of those books that I just couldn't put down. I can't wait to read the second offering from the series, The Silkworm.
Buy The Cuckoo's Calling (Cormoran Strike Book 1) here
We Are All Completely Beside Ourselves by Karen Joy Fowler
I hadn't read the blurb before I bought this, it had just been recommended to me so I wasn't sure what to expect. We Are All Completely Beside Ourselves follows the story of Rosemary Cooke who wants to find out what happened to her brother Lowell who took off and her sister Fern who was taken away when they were younger. This was the kind of book that really made me think and had me thinking about it long after I'd finished it.
Buy We Are All Completely Beside Ourselves here
The Little Old Lady Who Broke All The Rules by Catharina Ingelman-Sundberg
I bought this book because it was recommended to me based on my past purchase of The Hundred Year Old Man Who Climbed Out Of The Window and Disappeared. There's no real similarity in the two books apart from the fact that they're both by Swedish authors, however I absolutely loved it. It's about five elderly people who have had enough of living in a strict care home so they take off and have their own fun. It was hilarious and there's a sequel that's just been released which I've already purchased and can't wait to read!
Buy The Little Old Lady Who Broke All the Rules here
The Book Thief by Markus Zusak
This book was actually released as a film this year, which I didn't realise until I'd finished the book. By then it was on its last week at the cinema and I'd enjoyed the book so much that I just had to go and see it. The Book Thief is set in Nazi Germany and is the story of nine year old Liesel Merminger, whose mother is taken away. She's taken in by her two new foster parents, Hans and Rosa and soon discovers a love of books.
Buy The Book Thief here
The Goldfinch by Donna Tartt
This was my very last book of 2014, I finished it on New Year's Eve. The Goldfinch begins with the main character, Theo Decker's much loved mother being killed in a bombing at a New York museum in which he 'rescues' a painting. We then go on to learn about how he copes with his mother's death and continues with his life with this valuable painting in tow.
Buy The Goldfinch here

Hayley
has read 2 books toward her goal of 50 books.