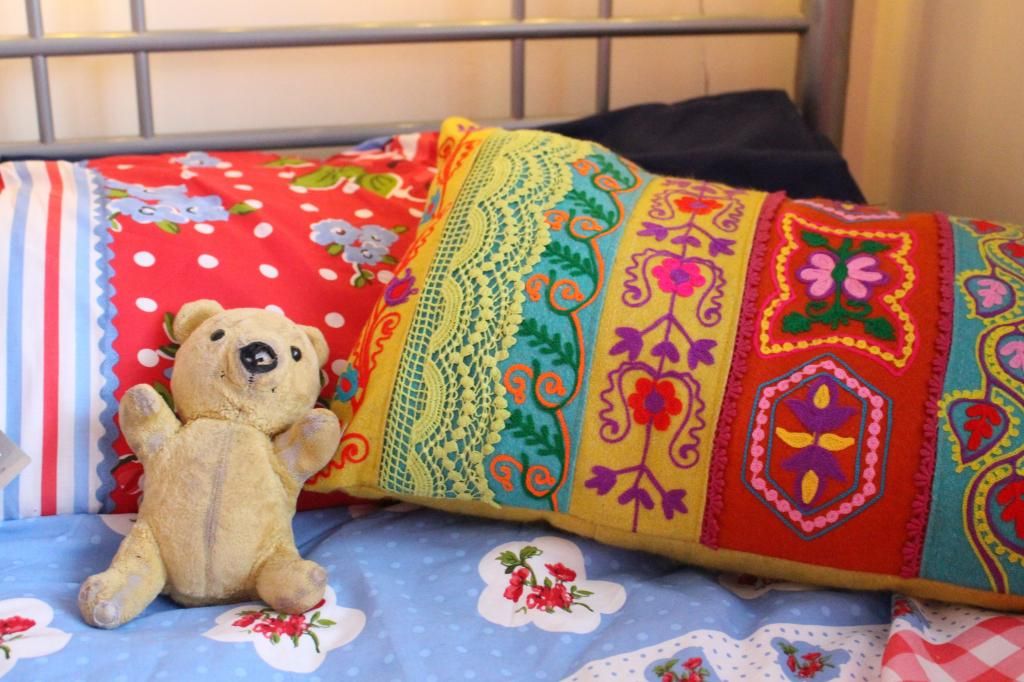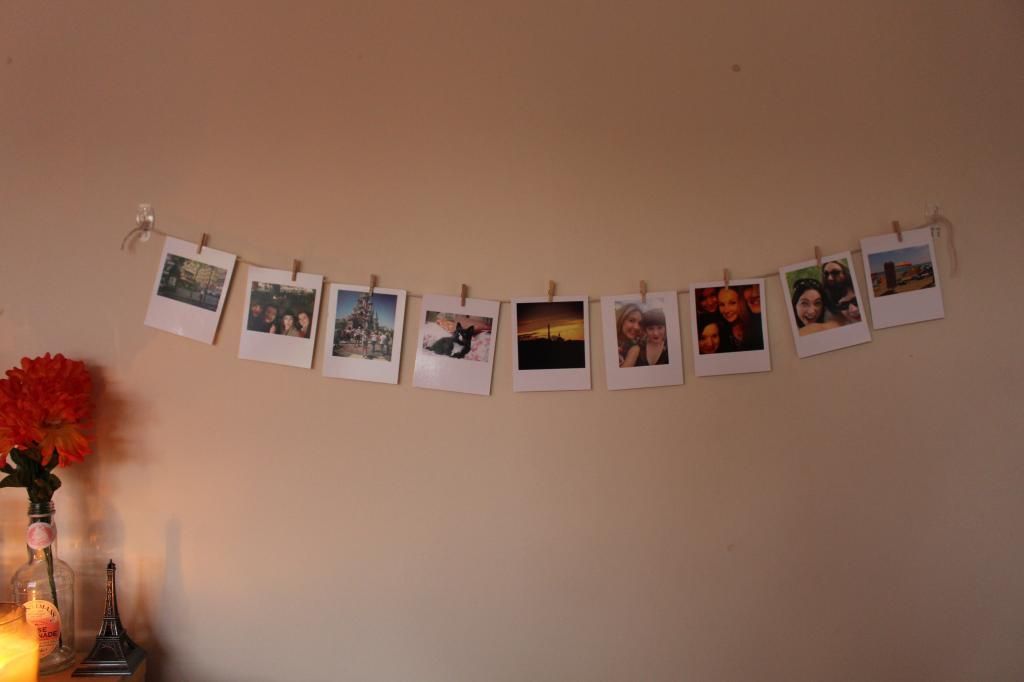 As I still live with my parents, my bedroom is the only room in the house that I get a say in the way it is decorated. My bedroom is where I go to get away from everything, to relax and to sleep. I spend most of my time at home in my room and even eat most of my meals in there. I thought that today I would show my favourite parts of room, the parts that make the room really feel like it's mine.
First of all, there's my bed. It's not the most attractive or comfortable of beds, it was left behind in my last uni house by a previous tenant and I ended up bringing it home with me. I would like to get a new one and a new mattress, but for now it will have to do. I love buy new duvet covers and I'm always changing my sheets. I don't really have a colour scheme in my room, most of the walls are cream and one is a deep pink but I don't mind if my bed doesn't match.
At the moment I have on a
floral and patchwork duvet cover
from B&M which looks very Cath Kidston. The heart cushion was a bargain from Tesco and the
Red Espinar cushion
* is from Culture Vulture. I also have my Owl from the Disney Store on my bed and my Winnie The Pooh which I was given when I was a baby. Around my bed frame, I've put some
sunflower shaped fairy lights
. When they're on they bring a lovely yellow light into the room and make it feel so cosy. You can also see a couple of photos I've got up from a press day with me,
Chloe
and
Mungle
pulling some faces.
I've decorated my walls with a couple of prints from The Print Kitchen and Dottie Rocks, although there are so many more that I want to buy! I've also had some of my favourite Instagram photos printed out from
printed.com
and I've hung them from a string using
craft pegs
. I love this, I think I first saw it on Pinterest and knew I had to do it. I'd really recommend
printed.com
for the prints as they arrived so quickly and are fantastic quality. It cost me £12 for 36 which is really good value.
I always like to have a candle or two burning. At the moment I'm burning the large Yankee Christmas Cookie jar which I have leftover from last year and a Yankee Pink Hibiscus votive which smells amazing. Bit of a strange mix of scents but it works! I also have some fake flowers from Wilkos in a couple of Rose Lemonade bottles which help to brighten up the room a bit and then there's my Eiffel Tower statue which I bought from Paris in June.
At the moment I just have one shelf up, although I have two of these which are from B&M - I'm waiting for someone to help me put the other one up. On this shelf I keep my perfumes; all of the bigger bottles are out on the shelf and my smaller ones are in the wooden basket which was from B&M. There's also some more fake flowers in a glass vase which were from IKEA and some owls which were a Christmas present when I was younger.
My makeup table was a bargain from IKEA, it was only £5. On this I keep my MUJI drawers and one lipstick holder which holds 24 lipsticks. I do have two more of these (which are full) in my wardrobe. I also have a jar full of my eyeliners and eye crayons and then an IKEA plant pot which I use for my brushes. I keep my eyeshadow palettes on top of the drawers but I really need to find somewhere to keep them tidy!
There's still so much more that I want to buy for my room but at the moment, I love how cosy it is and it really is my happy place. I could do with a lot more under bed storage for important documents and make up bits, so I'll be on the look out for some nice boxes.