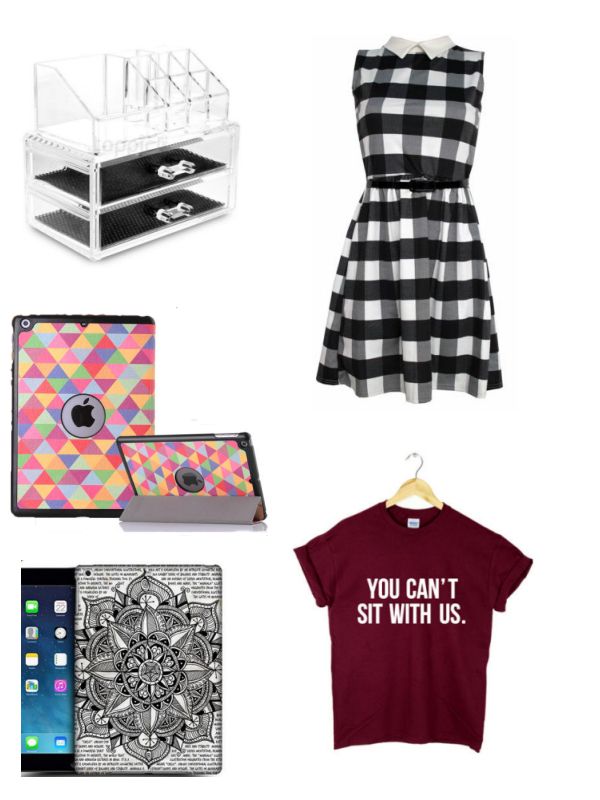 I didn't do an eBay wishlist post last week because I was at
Crufts Best in Show
and oh my god it was amazing. Don't worry though, this week I'm back with my cat and scouring eBay for the best bargains to share with you all!
Acrylic storage is something I'm really loving at the moment. I keep buying extra drawers from Muji to add to my collection and I also have something similar to the one in this wishlist, just without the drawers. I think this one would be great for storing your everyday products. At the moment, all of my lipsticks are housed in three of the bargain
£3 acrylic lipstick holders
and the rest of my makeup is in drawers so I have to search through them to find what I want to use. It would be so much easier to just be able to have my everyday products in one place because I'm pretty boring and I rarely switch up my foundation/concealer/blusher on a day to day basis.
I'm still loving gingham print and at the moment, I don't actually own anything in it apart from a nightie which I can't really wear out of the house. I love this cute little sleeveless dress with the collar. It's perfect for spring and can be worn with a pretty pastel jumper over the top to keep out the chill.
Since I bought my iPad Air on the day it came out last November (which just happened to be the day after I got paid from a new job, how convenient), I've been desperate to find a pretty case for it. Unfortunately, it seems like most of the shops either do really basic, plain cases or don't do them for the Air at all. It's really frustrating and at times it makes me wish I had just bought the earlier model. However, I have now managed to find a few on eBay and I'm really considering purchasing a couple. I love the cases that also double as a stand but I seem to spend most of my time with my iPad in my hand anyway, reading on the Kindle app or just pissing about online so one of the clip on cases would be perfect. Now I need to decide which one to go for..
Finally, I love all of these slogan tees and jumpers that have been coming out recently. I have the
More Issues Than Vogue jumper
and I bought the
You Can't Sit With Us jumper
for
Amy
for her birthday. Unfortunately, someone else bought it for her too so I was forced to keep it for myself (jokes, I was quite pleased as I wanted it anway) and buy her something else. Now I've got myself eyeing up the tshirt versions which I think would look amazing with disco pants.