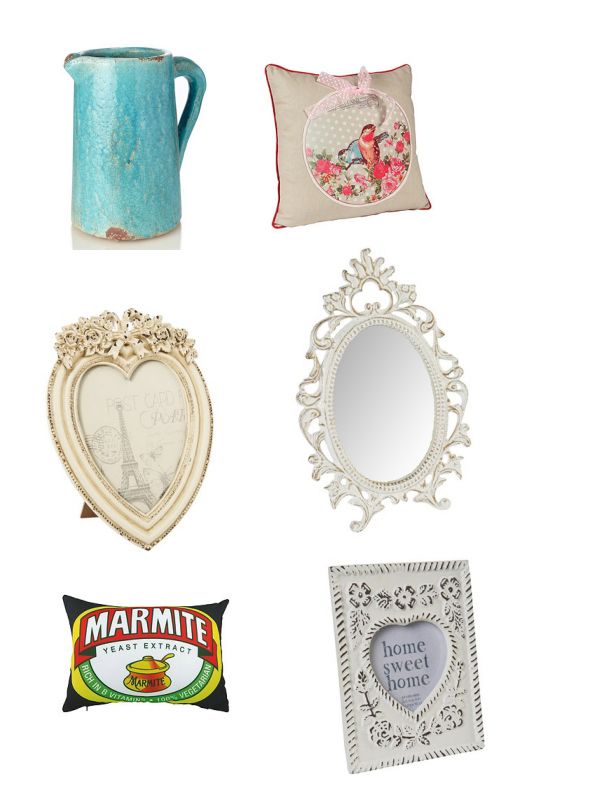 Another homeware wishlist! Honestly, if I buy anything else for my room, there won't be anywhere to put it. I really need to stop but everything is just so tempting and beautiful. I'm especially drawn in by the
vases from French Connection
. With a degree in Archaeology, I obviously have a soft spot for old things or things that look old which is why I've found myself lusting over this turquoise jug-style vase. I rarely have any fresh flowers in my room (if I do, I usually leave them until they're completely dead and brown and just not pretty anymore, oops) but I think that this would look perfect with some fake flowers in as well. The colour is gorgeous and great for brightening up a room.
One thing I just can't get enough of is cute photo frames. Even if you don't put in any photos, they're great decorations for any room. With photos of your loved ones (or your cat) inside, they'll always make you smile and can bring back great memories. The same goes for mirrors, if you don't mind seeing your reflection everywhere you turn then they also make great decorations.
I think cushions are they key to making a room feel homely - the more the better in my opinion. Even though I usually throw them all off my bed and onto the floor when I go to sleep, I still love having them all. I love a good mix of cushions from cute and girly to quirky and a bit.. weird.
What's on your homeware wishlist?