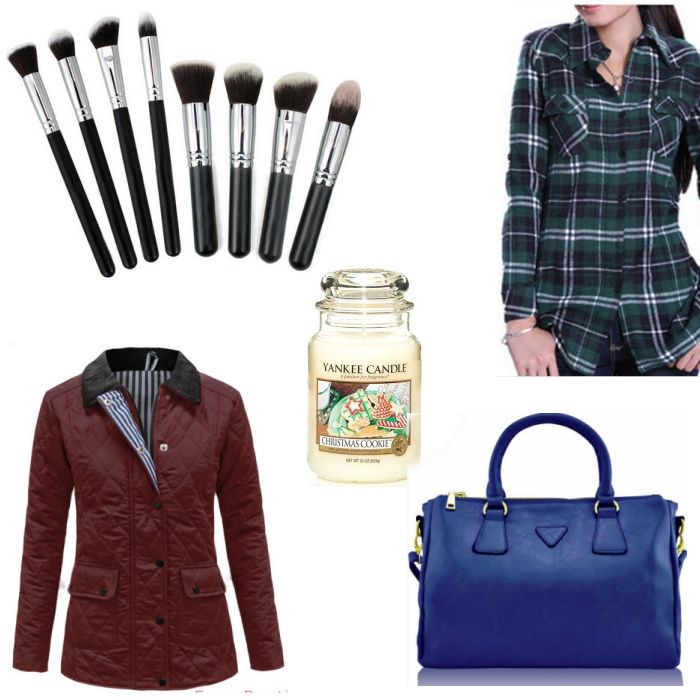 These eBay wishlists are dangerous! After
last week's post
I decided that I was so desperate for a new phone that I went out and got an iPhone 5s yesterday. I now have two of the cases that I posted about on their way to me. I think I'm going to have the same problem this week as I really love all of the items I've picked.
I came across these
Real Techniques dupes
while I was searching for a replacement for my contour brush which has gone walkies in my room somewhere. They look like they're good quality and they're only £14 so I think they're worth a try! You can never have too many makeup brushes in my opinion.
The
plaid shirt
is perfect for this time of year, it looks super comfortable and warm and would be great for layering. I've recently bought a black thick knitted jumper from Primark and I think this shirt would look great underneath it.
As well as makeup brushes, I think you can never have too many outer layers. This
burgundy quilted jacket
reminds me of the one I used to wear when I worked on the checkouts in Morrisons but it's still stylish and looks like it would be really warm.
I'm constantly burning candles in the colder months and
Yankee Candles
are my favourite, especially Christmas Cookie. They're so scented and last so much longer than other candles. I find that the scent disappears from cheaper candles before you've burnt them out but this does't happen with Yankees.
Finally, I found this bag which I think is a great dupe for the
Zara City bag
but it's in a bright blue which will cheer up any outfit, no matter how cold it is. I'm so obsessed with bags at the moment, I need to calm down!