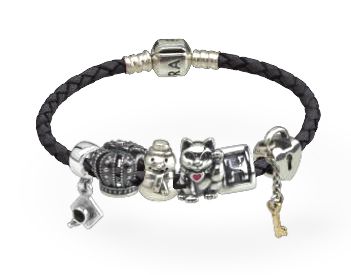 When I heard that
John Greed Jewellery
were running a
competition
to win a Pandora bracelet and charms, I just had to enter! I had a Pandora bracelet for my 21st birthday and I've collected quite a few charms now, however, there's a lot more that I would love to own.
It took me a while to create my bracelet but I picked charms that are very personal to me and would remind me of this year. I picked the
leather bracelet
as it's a lot more casual than the usual silver one and black goes with everything. First of all, I picked the dangly
mortarboard
charm as I graduated this year and it's something that I'm so proud of. Next, I picked the
silver crown
as 2012 was the year of the diamond jubilee and it reminds me of all the celebrations that we had in Winchester and what girl doesn't want a sparkly crown? The next charm is the silver
snowman
which represents Christmas, my favourite holiday. Next up is this cute
lucky cat
charm which reminds me of my last year of uni when I had ten gold lucky cats delivered (don't ask!) I absolutely love the little red enamel . The next charm is a
'H' initial
charm which is pretty self explanatory. Finally, there's the
heart lock and key
charm, I love the two tone silver and gold and I think it gives the bracelet a bit of extra glam. All together, the bracelet and charms come to exactly £250.
What do you think of my entry? Have you entered too?